Evangulov backs Daley
The British performance director feels Daley is a threat to Chinese
Last Updated: 22/05/12 10:16am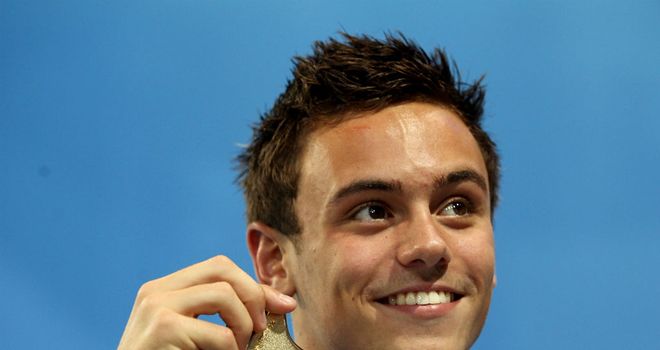 Tom Daley: With his recent European gold medal
Alexei Evangulov, British Diving performance director, believes that Tom Daley can break China's dominance at this summer's Olympic Games.
It was only three months ago that Evangulov publicly questioned Daley's Olympic credentials, claiming he was the fifth-best 10metre platform diver in the world.
In the months since, the Russian has been forced to totally change his assessment after Daley hit career-best form.
The Plymouth diver was crowned World Series champion for the first time last month and Daley, who turned 18 on Monday, reclaimed his European title in Eindhoven on Sunday night.
He blitzed his opponents, including former world champion Gleb Galperin, with a personal-best 565.05.
On top of sending a warning to his Chinese rivals, it left Evangulov in no doubt that Daley can stand on the podium in the Olympic Aquatics Centre later this summer.
Equal
He said: "That result will scare the Chinese - it will get them worried.
"Thomas is diving very well at the moment. With no obstacles in his way he is doing very well.
"In a way he is equal with the Chinese at the moment. Two years ago or even last year I would not say this.
"You remember what I said in the press - he was fifth in the world. Now I can say he is top three."
Daley's success in Holland, as he reclaimed the title he first won as a 13-year-old, was his second personal best in as many meets, highlighting his progress this year.
While Evangulov acknowledges that he still has ground to make up to catch Qiu Bo, China's world champion whose best is in excess of 600, and Lin Yue, he believes Daley is capable of doing it.
He added: "If you look at his results his personal best, it's still below the Chinese.
"But there is one thing that makes me optimistic - the Chinese scores are high but last year and two years ago they were at the same level.
"They are close to 600 but they are not improving. Thomas is getting closer.
"I don't know if we will have enough time or not (before the Olympics) but he is getting closer.
"We have a plan, we are working towards it.
"Thomas is not even at his best now. I expect that in July he will be better, we are training him so that will happen."
U-Turn
Evangulov's comments are in stark contrast to his critical view of Daley before February's World Cup, when he suggested that the teenager was allowing his media commitments to affect his training.
The performance director likened Daley to Anna Kournikova, tennis' most high-profile fallen star, claiming that his Chinese rivals trained "three times harder".
Evangulov, who despite his renewed optimism still expressed a note of caution, added: "There are no obstacles at the moment, Tom is fully focused on his job.
"We must remember though that it will not be easy for Thomas. Qiu Bo is one of the best ever divers technically on the platform.
"I am also hearing rumours that Lin Yue beat Bo at the recent Chinese trials. They are very good."
Improvements
However, Daley has beaten Bo before - most notably in 2009 when he became Britain's youngest-ever world champion at only 15-years-old.
As Daley enters adulthood, Evangulov believes he has developed into a world-class operator - even if the "cute boy" he believes attracted higher scores from some judges is now gone.
Evangulov said: "His body has changed dramatically over the past two years. He was a little boy. A cute boy. Sometimes the judges treated him as a cute boy.
"Sometimes they gave him a little bit higher because it was unusual - a 15-year-old world champion.
"But now he has absolutely matured. He's a strong man; he's absolutely different.
"There's a different attitude to him now from the judges and the experts. But that is not a bad thing, because now you see him and how strong he is mentally and physically. He is very strong. You have to be if you want to win an Olympic medal."