Pattinson to keep it in family
Pattinson confident of being fit for England one-day challenge
Last Updated: 21/05/12 7:01pm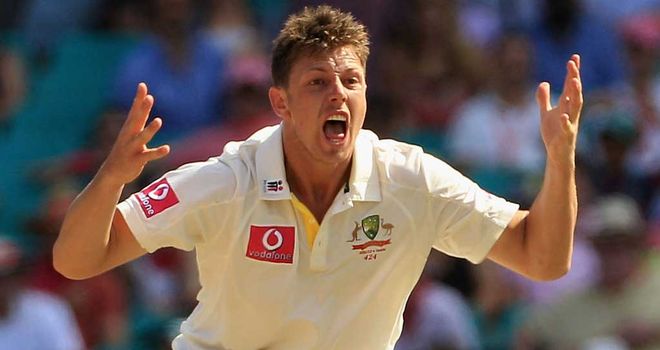 James Pattinson: Has resumed training
Australia fast bowler James Pattinson is looking for some family advice as he prepares to face England this summer.
Older brother Darren - who famously played a Test for England - has been with Nottinghamshire since 2008 and his younger sibling is anxious to to get the lowdown on English wickets and conditions.
"It would be good to catch up with him over there to get some inside tips because he's had a bit of success over there in recent years," the 22-year-old said.
"So it's good to have that knowledge in the back of my mind."
Strange
Pattinson is recovering from a back injury that cut his West Indies tour short, but he is confident he will be fit to face England.
"It was a bit of a strange way I did the injury. I went to throw the ball at the bowler's end and changed at the last minute, and threw the ball at the other end," he said.
"I jarred my back up in an awkward position and straight away felt pain in my back and it just seized up from there."
The Australian quick returned home for treatment and spent most of his time walking, jogging and then working in the gym in his early rehabilitation.
But with the tour fast approaching, Pattinson is increasing his workload in his quest for full fitness.
"I've started bowling about three times a week now at about 80 per cent intensity and building up to hopefully the end of next week at 100 per cent," Pattinson said.
"It leaves me with three weeks of going at 100 per cent in the nets and then looking forward to getting over to England."
Scholarship
Pattinson will fly to Brisbane on Tuesday to begin a scholarship at the AIS Centre of Excellence and will use his time there to prepare for England.
"I'm looking to get back into bowling at 100 per cent and a bit of match intensity up there as well," he said.
"Hopefully I can get out in the middle and bowl and hopefully it's white ball practice with the ODIs coming up."
Australia's first match of the tour is a one-dayer against Leicestershire on June 21. They then meet Ireland and Essex before five ODIs against England.