Wenger eyes more from Szczesny
Gunners stopper needs City counterpart's mentality says Wenger
Last Updated: 16/04/12 12:24pm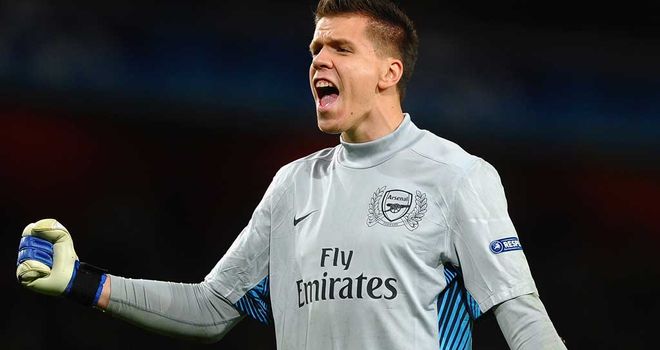 Wojciech Szczesny: Shoud copy Joe Hart's mental toughness says Wenger
Arsene Wenger thinks that Arsenal keeper Wojciech Szczesny should look at Joe Hart as a role model to keep improving himself.
The 21-year-old has established himself as the Gunners' first choice this season, but his manager feels that he has to add the right mental approach to his natural ability.
Hart was at the opposite end of the pitch to the Polish international when City were recently beaten by Arsenal, who are at home to Wigan on Monday night in a game that can be seen live on Sky Sports 1 HD and in Sky 3D.
Asked where Szczesny has made improvements in his game, Wenger said: "In his focus, yes. In the consistency of his focus.
"The talent was always there but he is maturing quickly. I like that he is a good communicator. You have to adjust, it's important to find a balance.
"The mental part of a goalkeeper is vital. Look at Joe Hart, who is a fantastic goalkeeper, for me he shows that strength.
"I wouldn't like to say publicly what he needs to do, I'd rather tell him myself. Overall he has the basic talent to be a top class 'keeper. How far he goes will depend on how much he wants to improve."
Trends
Szczesny is one of a host of overseas players brought to Arsenal by Wenger in his 16 years in charge, and the Gunners' boss admits that the influx of foreign players in that time has changed trends in the game in England.
"The foreign players have brought good and bad things," he added. "In England you respected two things, that you get well kicked but on the other side that they (the players) have not gone down for nothing.
"The second thing I admired here in England is that you never surround the referees to give a yellow card to someone else, you let the referee make a decision, but that has gone as well.
"There is a trend now to surround a referee and give a yellow card and that never happened when I arrived."