Walsh: Ruby bruised and sore
Wash Snr reports son Ruby to have only superficial injuries
Last Updated: April 15, 2012 1:40pm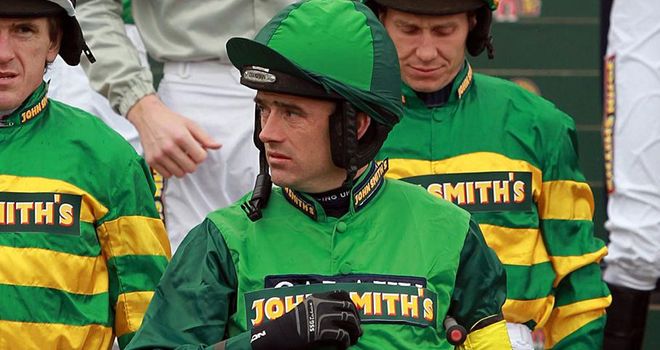 Ruby Walsh: Heartbroken to miss National ride
Ted Walsh admits his son Ruby was "heartbroken" to miss out on riding in Saturday's Grand National but is only bruised and sore.
The jockey has partnered two winners of the world's most famous steeplechase, the first of which, Papillon (in 2000), was trained by his father.
He was due to get the leg up on leading fancy On His Own in this year's renewal but for the second time in three seasons, he suffered a heavy fall in the Aintree Hurdle on the same card and was stood down for the day.
Happily, both Walsh and Aintree Hurdle favourite Zarkandar escaped serious injury.
"He's sore and he got a crunching fall. I've often seen him have lesser falls and get more seriously injured," Walsh senior told At The Races.
"It looked absolutely horrific when you saw the replay. The horse just paddled through it and came down on top of him.
"Thankfully he's no worse than bruised and sore and he's made of good stuff, so hopefully he'll be all right in a few days."
While the decision was taken out of the rider's hands by the on-course doctors, Ted Walsh believes Ruby accepted their judgment.
"Those decisions are not taken likely and I'd say it was the right decision," Walsh continued.
"They probably figured that another fall wouldn't have been any good to him and they do their job every day of the week to try and make sure jockeys are 100% going out.
"I know how heartbroken he was not to ride in the National. He loves riding in the National, it's been his dream since he was a kid and he's been fortunate enough to win a couple of them.
"He's had a good record around there, but it's a huge blow. It's like not being able to step out at Wembley for the FA Cup final."