Wade ready for Test debut
Australia wicketkeeper aims to impress in Caribbean
Last Updated: 30/03/12 9:50am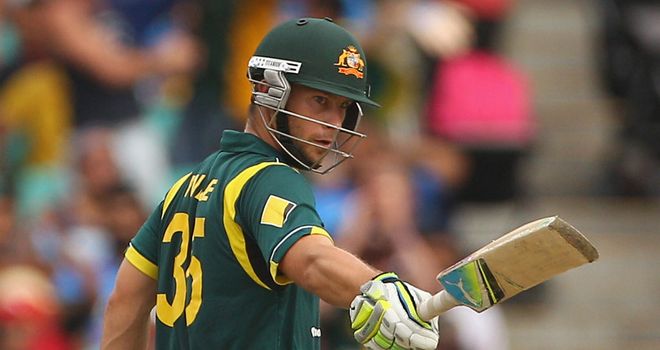 Matthew Wade: Tasmania wicketkeeper gets unexpected chance in the West Indies
Matthew Wade is relishing the prospect of a Test debut, but insists he will not be looking any further ahead than the tour of the West Indies.
Barring an unexpected injury Wade, 24, will don the Baggy Green for the first time next Saturday, when Australia take on West Indies in the first Test in Bridgetown, after Australia's long-time Test keeper Brad Haddin flew home for family reasons.
That has given Wade a perfect opportunity to make the wicketkeeping berth his own for the foreseeable future.
"Every time you get a chance to show what you've got for Australia you're trying to do your best," Wade said.
"I'm just going to concentrate on these three games and look no further than that. Hopefully I do get the opportunity to play and can do well in these three games. If I look too far down the track that won't help me at all."
Conditions
Wade has had a disappointing tour of the Caribbean thus far, scoring 46 runs in five limited-overs matches.
Nevertheless he is not expected to miss out to Peter Nevill - Australia's back-up wicketkeeper on the tour - given that he had a solid run in the one-day side during the tri-series at home against Sri Lanka and India.
"The first three games I didn't get a lot of time in the middle, it was over pretty quick," he said of his form in the West Indies.
"If I look too far down the track that won't help me at all."
Matthew Wade Quotes of the week
"But the last couple of games I've felt like I'm going in the right direction. I've had a little bit more time in the middle to get used to the conditions so hopefully the wicket has a bit of pace in it, which the Aussies will like a bit more.
"Playing the one-dayers and the Twenty20s has definitely helped me adjust to the conditions. The first few games were trying conditions, which we'll probably come against at some stage in this Test tour.
"So to get a little bit of experience under these conditions has been fantastic for me and hopefully it will hold me in good stead for the rest of the tour."
Australia begin their three-day tour match in Barbados on Monday ahead of the first Test on April 7.