Tendulkar hits 100th hundred
'Little Master' passes milestone after a year of waiting
Last Updated: 16/03/12 6:08pm
Sachin Tendulkar has finally passed the milestone of 100 international centuries after a ton in the Asia Cup clash with Bangladesh.
Tendukar becomes the first cricketer to score a century of centuries on the international stage, his 100th coming 22 years after he made 119 against England at Old Trafford.
The 'Little Master' was in sparkling form as he cruised to his century with 10 fours and a six after Bangladesh won the toss and decided to bowl first. He helped his side to a commanding 226-2 after sharing a stand of 148 for the second wicket with Virat Kohli.
Tendulkar was eventually dismissed by Mashrafe Mortaza for 114 and India went on to lose the match, Bangladesh chasing down a target of 290 in the final over.
He had twice been out in the 90s since March 2011 - his last ton coming in the defeat to South Africa in Nagpur - but got over the line in Mirpur with a clip into the leg-side off the bowling of Shakib Al Hasan.
ICC chief executive Haroon Lorgat was quick to pay tribute to Tendulkar.
He said: "On behalf of every cricket fan around the globe I congratulate Sachin on becoming the first person to score 100 centuries for his country.
"This is indeed a magnificent feat and not likely to be easily emulated.
Admired
"Fans have admired Sachin for more than 20 years and have recently waited with great expectation for his 100th international century.
"The number 100 is special for a batsman and to record 100 centuries for your country is a massive statement.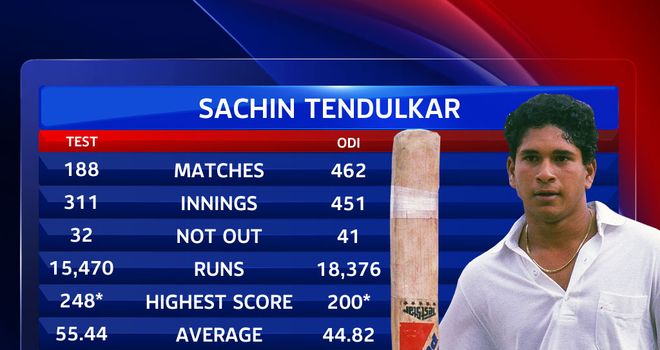 "Like millions of others I have personally followed his career ever since he first played for India as a gifted 16-year-old and now, more than two decades later, his passion and personal records, which include more than 33,000 runs at international level, is a modern day wonder.
"He is a marvel to cricket lovers around the world and with an array of batting records, Sachin is a true role model who will undoubtedly hold a special place in cricket's history."
Tendulkar was described as a "colossus" by N Srinivasan, the president of the BCCI.
"Ever since he made his international debut in November 1989, Sachin Ramesh Tendulkar has strode cricketing arenas the world over, like a colossus," Srinivasan told bcci.tv.
"He has broken old records and set new benchmarks. He has been an inspiration to billions, and an ornament to the sport. March 16, 2012 will never be forgotten by cricket-lovers.
"On behalf of the BCCI, I would like to congratulate Sachin Tendulkar for completing a century of international centuries."