Given calls for united front
Keeper hails McLeish efforts and urges fans to stay behind team
Last Updated: 02/03/12 9:57pm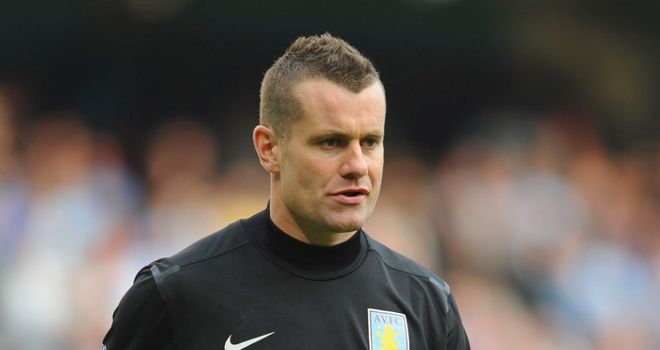 Shay Given: Full of respect for Alex McLeish as he tries to revive Aston Villa's fortunes
Shay Given has urged supporters to get behind the team and manager Alex McLeish when Aston Villa make the trip to Blackburn on Saturday.
McLeish has struggled to win over some of the fans since his summer arrival from local rivals Birmingham and came in for criticism during last weekend's clash at Wigan.
Given feels it is vital to show a united front for the rest of the season as Villa strive to get their campaign back on track and stay clear of relegation trouble.
"It's very important that we stick together as a group, not just the players, or the players and the staff, but the fans, the players, the staff and everyone together," said the goalkeeper.
"That's what's best for Aston Villa and it's the most important thing on a match day that the fans do stick together.
"They might not agree with a decision or even a managerial decision, but the manager is doing it for the benefit of the team and for the players and the team out there.
"At that moment, it's what he thinks is best for Aston Villa and people should understand that. It's not about personalities or individuals, it's about the club as a whole."
Encouragement
Given added: "I've been in this kind of position before where teams are struggling and it doesn't help when people might be booing or whatever.
"While I would say I'm an older, more experienced player, you can't speak for every player and some of the lads are still young and still learning their way in the Premier League.
"It's at times like that, when the team is struggling a little bit, that they need support and they need everyone behind them.
"I'm not saying that the fans have been on our backs at all, in fact, they have been superb. But the more encouragement they can give us over the 90 minutes the better.
"They all have opinions and they're totally entitled to them but if they keep them for during the week and, during the game give us as much support as they can, it really helps."
Given has a lot of respect for McLeish and the way he is trying to revive Villa's fortunes.
He said: "The manager is here morning, noon and night trying to get the best out of the players, as individuals and as a team collectively.
"I know fans don't see that, but he's extremely passionate about what he does as a manager. He leaves no stone unturned in trying to be successful."