Clarke wins AB Medal
Australia skipper win prestigious award ahead of Mike Hussey
Last Updated: 27/02/12 6:00pm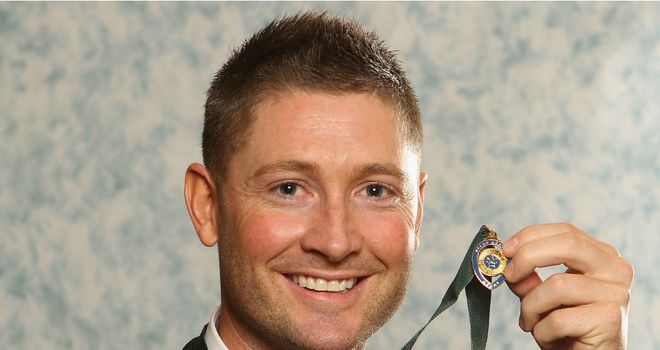 Michael Clarke: Claimed the Allan Border Medal for a third time
Australia captain Michael Clarke has been awarded the Allan Border Medal for the third time in his career.
The 30-year-old, who took over his country's captaincy in March of last year, was named as Australia's cricketer of the year ahead of Mike Hussey.
Clarke gained 231 votes from players, media and umpires with Hussey second on 174 and Shane Watson coming third after gaining 166 votes.
Ponting, who last week was dropped from Australia's one-day international side, finished in fourth position after polling 141 votes.
Clarke also secured the Test player of the year award after winning that vote ahead of Ponting on countback.
Clarke and Ponting both received nine votes but the former was given the award as he polled more major votes.
Watson beat Clarke on a countback to win the one-day international award and also took the Twenty20 prize, while 25-year-old opener David Warner won the Bradman Young Cricketer of the Year Award.
Legendary spinner Shane Warne, who retired in 2007 after claiming a total of 708 Test wickets, was officially inducted into the Australian Cricket Hall of Fame at the awards ceremony in Melbourne on Monday night.