Arteta - Don't blame Wenger
Spaniard says players are to blame for up-and-down season
Last Updated: 29/02/12 7:21am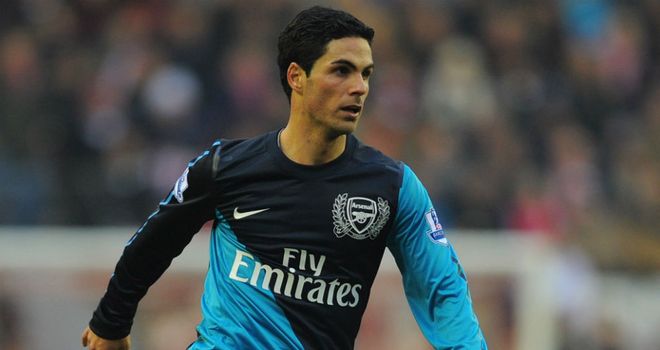 Mikel Arteta: Insists Wenger is not to blame for Arsenal's inconsistency
Mikel Arteta insists it is Arsenal's players and not manager Arsene Wenger who should take responsibility for the club's inconsistent season.
The Gunners have fallen out of the Premier League title race, sitting 20 points behind leaders Manchester City in fifth place ahead of Sunday's North London derby.
They are also on the brink of UEFA Champions League elimination, having suffered a 4-0 thrashing at AC Milan in the first leg of their round of 16 tie.
French boss Wenger has come under fire from certain sections of Arsenal's fans, who have questioned his team selections as well as his business in the transfer window.
But Spanish midfielder Arteta, who arrived at Emirates Stadium from Everton last summer, is adamant the manager is not to blame.
Blame
He told the Daily Mirror: "It is us who are to blame, not the manager.
"The way he has been talking to the group of players has always been positive. I have no doubts that he loves Arsenal.
"He tries really, really hard to make us successful. Sometimes it is our fault that we don't win - like we don't put the ball in the net or make a mistake. It is everyone at the club who is involved. Everyone is affected."
Arteta admits Arsenal's players looked long and hard at themselves following their collapse in the San Siro earlier this month.
"That was a disaster," he said. "In Milan we collapsed.
"It was very frustrating. We talked after the Milan game. We were frustrated and we were gutted. You get upset with yourself after a result like that. We knew we can't keep doing this or that. Mistakes had to stop."
The Spaniard knows a strong result in Sunday's derby would help rebuild Arsenal's confidence after a disappointing fortnight, which also saw them exit the FA Cup at the hands of Sunderland.
Fight
"We know that we we have to get our heads up and fight again," he added. "The team was really down after we lost in Milan and then went out of the FA Cup.
"But there is a good spirit in this team. We fight for each other.
"We have a difficult game against Spurs and we know what that means to the fans. But it is also a good one where we can try to rebuild our confidence.
"Losing? We are not even thinking about that. What we want to do now is win all the games that are left and win a place in the top four to play Champions League football next season."