Tremlett set to miss out
Fast bowler highly doubtful for second Test after missing practice
Last Updated: 26/01/12 11:49am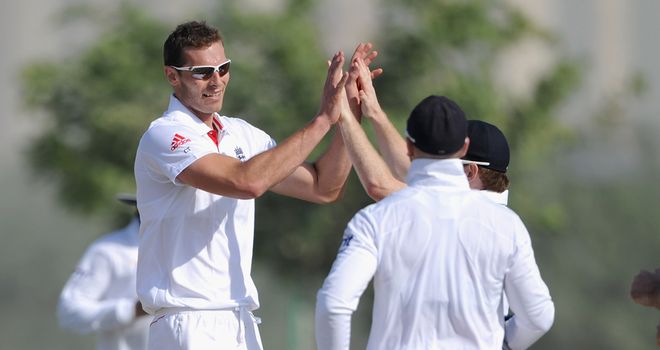 Chris Tremlett: Struggling with soreness and stiffness in his back and side
England paceman Chris Tremlett looks unlikely to face Pakistan in the second Test on Wednesday due to a back problem.
Tremlett took no part at all in a practice session on Tuesday which appeared to confirm his absence from the second Test. Either Steven Finn or Graham Onions is likely to replace him in the line-up.
Captain Andrew Strauss admitted Tremlett, who returned to the England attack in last week's first match of the three-Test series, has again succumbed to soreness and stiffness in his back and side.
That same affliction kept him out of the England reckoning for five-and-a-half months, after a hamstring injury led to a back problem on the eve of last summer's Trent Bridge Test against India.
Before the rest of the England squad began their practice session at the Sheikh Zayed Cricket Stadium, Strauss said: "He had a sore back and side yesterday, and he's going to have to bowl today before we know whether he's fit or not. It's a little bit up in the air at the moment. We'll obviously know more after practice today."
England have not sent Tremlett for a scan, however. "No, it's not one of those ones," added Strauss. "But there's some general stiffness and soreness, so it's a case of whether that loosens up or continues.We'll probably only know that after practice."
Sky Bet Odds
England to win the 2nd Test v Pakistan - 9/4! Bet now.
England trail 1-0 after their batting failed twice in the opening Test in Dubai.