Akmal caught in a spin
Pakistand wicketkeeper is putting in extra shifts to judge spinner
Last Updated: 23/01/12 5:22pm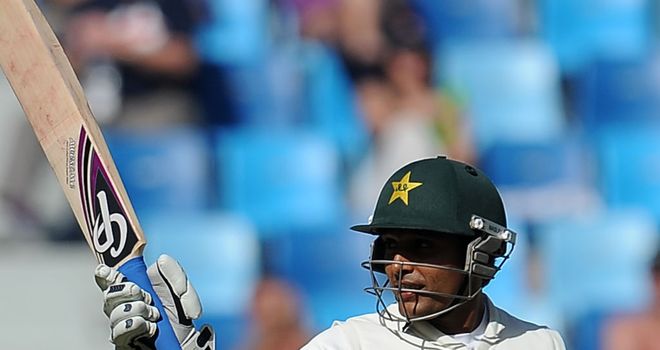 Adnan Akmal: Seeing rewards from the hard work he has done in the nets
Pakistan wicketkeeper Adnan Akmal admits he has needed extra hours of practice to judge spinner Saeed Ajmal's bowling.
Ajmal shattered the England batting line-up last week in Dubai when he stormed to a career best 7-55 in the first innings of the series opener.
Gloveman Akmal took seven catches in the match, one off the bowling of Ajmal, but said he had to put in added work so he could read the slow bowler.
"I had some trouble keeping on Ajmal's doosra," he said. "I worked with Ijaz Ahmed (fielding coach) and the work out and the drills helped me a lot.
Practice
"It's a bit different and difficult to keep off Ajmal. You know how to keep wickets on the off-spin that it will come in and one that goes out, so it's difficult.
"Every time I keep wickets I watch his hand and have practised a lot.
"It's only after a lot of practice that I am doing better on his bowling. I have set no signals because if you set signals it's no use being the keeper."
Ajmal claimed that he unveiled a new delivery against England, the teesra, but Akmal believes he did not see anything different.
"I never felt any difference, they were normal deliveries like I have been keeping on in the last ten twelve matches, he was bowling in the same manner," he added.
Akmal, who replaced his older brother Kamran in the Pakistan side in 2010, scored a valuable 61 as his side routed England and believes that his batting is a big advantage to his game.
"My effort is always to give my best for Pakistan, for my team so every time I want to give benefit to the team," he said. "I enjoy keeping but batting is my plus point."