Trott looking to bounce back
Number three believes batting line-up will learn from their mistakes
Last Updated: 23/01/12 11:12am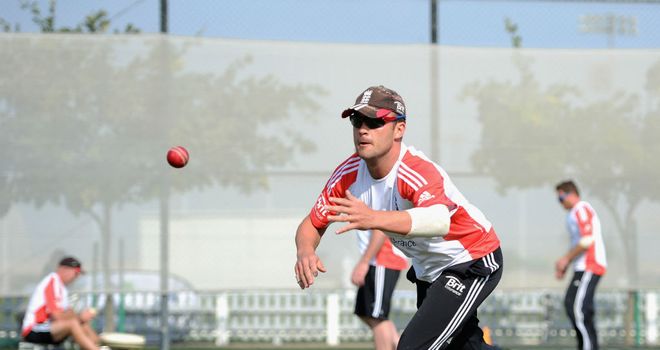 Jonathan Trott: Hopeful that England will hit back in the second Test in Abu Dhabi
Jonathan Trott is confident England can learn the lessons of their humiliating first Test defeat to Pakistan in Dubai.
The tourists are acutely aware that they urgently need to pull off one of their trademark tricks by immediately bouncing back from defeat to stay alive in the three-Test series against Pakistan.
Andrew Strauss' team were back in the International Cricket Council's GCA nets on Saturday morning, after a day off, and will be on the road on Sunday for the second Test in Abu Dhabi starting on Wednesday.
They should, of course, still have been playing the first match at the adjacent Dubai International Cricket Stadium.
However, that contest was lost by ten wickets inside three days - largely because of their abject batting, against off-spinner Saeed Ajmal in particular.
Jonathan Trott was unique among his team-mates in that he did not fall to spin in either innings - and he is optimistic that England can make an instant response to adversity, as they have done several times previously during their ascent to the top of the ICC Test rankings.
Matter of time
"Being a part of this England team for two or three years, we've had a few losses and we've managed to bounce back in the following game," said Trott.
"We hope we can do that again - and being close-knit and playing well together and knowing each other's games so well, it's just a matter of time for us to get back to winning ways."
England appear determined they will not be sucked into the controversy over the legality of Ajmal's action - despite coach Andy Flower's notably equivocal remarks on the subject.
Instead, they will focus on what they can and must do to help themselves.
"Whenever you go into the first Test and don't score big in the first innings, you're going to put your bowlers and yourself under pressure," added Trott.
"But that happened, and we're looking to rectify it in the second game.
"It was really good and really important (in practice) to move on from the last match. The guys have done that, and really thrown themselves into nets."