Hussey - We can stop Sachin
Australia veteran targets a swift return to form against India
Last Updated: 23/12/11 10:38am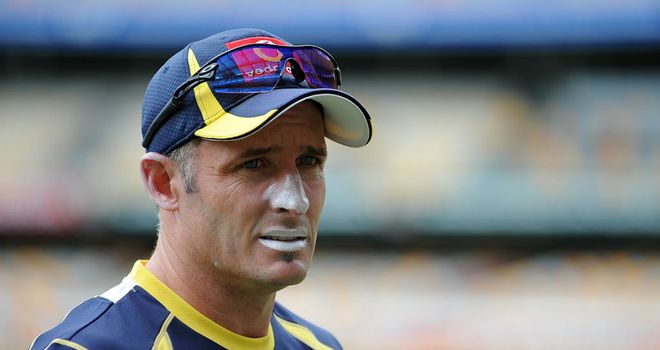 Michael Hussey: Confident of stopping Sachin Tendulkar reaching 100 hundreds
Michael Hussey insists Australia will be doing all they can to prevent Sachin Tendulkar from scoring his 100th international century.
The 'Little Master' is poised on 99 tons and it is widely anticipated that the elusive 100 will come up in the Boxing Day Test in Melbourne.
But, while Hussey expects Tendulkar to reach the landmark, he just hopes to not be on the receiving end of it.
"I hope he doesn't get it against Australia. He's been a number one player for so long, it's a credit to his character, but I hope he doesn't get his 100th hundred in Australia," said Hussey.
"I don't think he is under any pressure though. He knows his own game so well. He has been under pressure for so long. The way the public has been with Tendulkar in India, he would be able to handle it, no problem."
Luck
Hussey himself meanwhile is struggling for form and is lucky to be selected for the Melbourne Test after failing in the Test series' against South Africa and New Zealand.
The 36-year-old has scored just 83 runs in his last seven innings', but insists he just needs a bit of luck to go his way and the runs will soon follow.
"I feel like I'm in a good place mentally," said Hussey. "I feel like I'm batting well in the nets.
"It just goes with batting. You just sometimes need a little bit of luck early in your innings and you can go on and get a big score."
Looking ahead to the Test, Hussey feels the main threat with the ball will come from India's veteran seamer Zaheer Khan, but he's been working hard in the nets to counter the left-armer's swing.
"We have seen Zaheer bowl before and know what he likes to swing. Still he is a class bowler, he's is a threat with the new ball and when it is old.
"We would try to be very well prepared but certainly he's going to be a tough challenge," said Hussey.