MCG unveil Warne statue
Australia legend honoured with statue at home venue
Last Updated: 22/12/11 2:08pm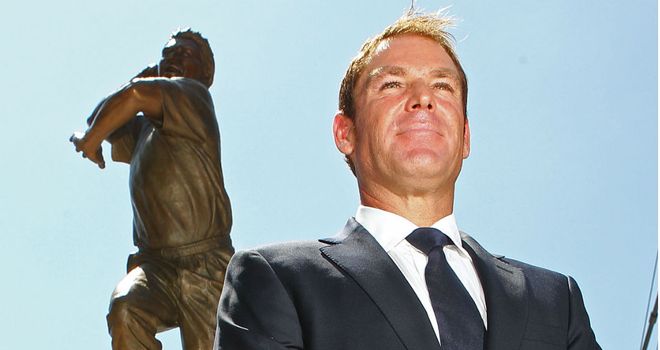 Shane Warne: 'Very proud' day at the Melbourne Cricket Ground
Australia spin king Shane Warne spoke of his pride after a bronze statue of himself was unveiled at the Melbourne Cricket Ground.
The 42-year-old recently made a much-publicised return to cricket after a short retirement at the MCG in Australia's revamped domestic Twenty20 competition.
But it was the 708 Test wickets - he grabbed his 700th at the MCG - that earned Warne a place alongside 10 other Australian sporting greats outside the most famous sporting venue in his home city.
"It's 300 kilos that statue, it's pretty lifelike for when I played," Warne joked to reporters after the unveiling.
"It's a great honour, it's a bit weird seeing yourself up there but I'm very proud."
Artist and sculptor Louis Lauman admitted it was hard to put the svelte new Warne out of his mind.
"It was a challenge for me because Warnie is so fresh in everybody's memory and I guess everybody has their opinion of what it should look like," he said.
"You couldn't do it the way he is now. He is a different figure and has done a lot of work to get as trim as possible, probably to the point of being underweight. But I have tried to be as respectful as possible. It is a very striking pose."