Johnson calm about future
Left-arm paceman plans to come back a stronger cricketer
Last Updated: 13/12/11 9:28am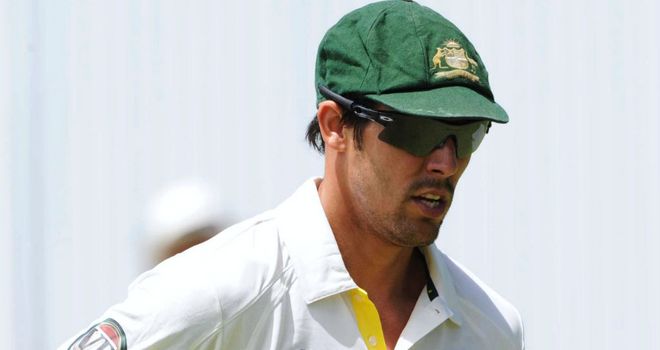 Mitchell Johnson: Taking the positives
Australian paceman Mitchell Johnson insists there are positives to take from being ruled out for up to six months after undergoing foot surgery.
The left-armer was under growing pressure to hold onto his spot before the injury in South Africa after taking just 13 wickets in his six Tests in 2011, with an average of 57, and the surgery increased speculation about his future role in the Australia team.
But the 30-year-old, who will be on crutches for four more weeks and then in a moon boot for another month, said he was determined not to let that worry him and wanted to focus on ensuring he could benefit from the lay-off.
Hype
"I'm taking a lot of positives from it," Johnson said. "It gets me away from all the hype of the game and just to get me to really focus on what I need to do to get right to play cricket again.
"It has actually given me a good chance to work on a few things, which I haven't been able to do for the last few years because of the full-on scheduling.
"It gives me a good opportunity to get my fitness and strength back up and then work on some technique stuff with my bowling and my batting.
"I want to work with Dennis Lillee a bit more too. We work really well together and he seems to know my game really well so it's great to be able to have someone around like that."
Johnson, who has taken 190 wickets in his 47 Test matches, said his age was unlikely to be much of a factor because bowlers generally peak between 28 and 30.
Frustrated
But the WA quick will face increasing competition from Australia's younger fast bowlers, highlighted by 21-year-old James Pattinson, who burst onto the Test scene with 14 wickets at an average of 14 in a man-of-the-series performance against New Zealand.
"There's a big future ahead for him," Johnson said.
"He's been frustrated at times not being able to play and I spoke to him in South Africa and said 'keep being relaxed and keep doing the things you need to do in the training sessions'."
"He was always working hard with the nets and now he's got that opportunity he's taken it with both hands."