Still happy with lucky break
Last Updated: 24/11/11 1:01pm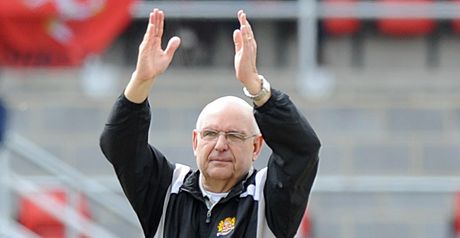 Still: Delighted
John Still was pleased after Dagenham took advantage of an offside ruling to beat Bath City in the FA Cup first round on Wednesday.
With the scores level at 1-1 after normal time in their first-round replay at Twerton Park, Daggers striker Jon Nurse put the visitors back into the lead with a controversial goal which carried more than just a suspicion of offside - the first of two extra-time strikes in a 3-1 victory.
Furious Bath counterpart Adie Britton said: "The explanation given by the officials was that the ball touched one of our players when it was knocked forward, but that should not make a difference because Nurse was offside when the ball was struck by his team-mate."
And Still admitted: "I don't agree with the law that says a player can be played onside as Jon was, but it is there and we have suffered from it in the past.
"That is why he was sensible enough to play the whistle and carry on to score. He knew we had been on the wrong end of such decisions in the past.
"I thought there were some outstanding performances from my players and now we can look forward to a home tie (against Walsall) in the second round, which is very unusual for Dagenham. The players I have brought in recently are making a difference and I hope to sign a couple more."