Schmidt hails focused Leinster
Glasgow counterpart Lineen rues Dublin 'spanking'
Last Updated: 20/11/11 5:02pm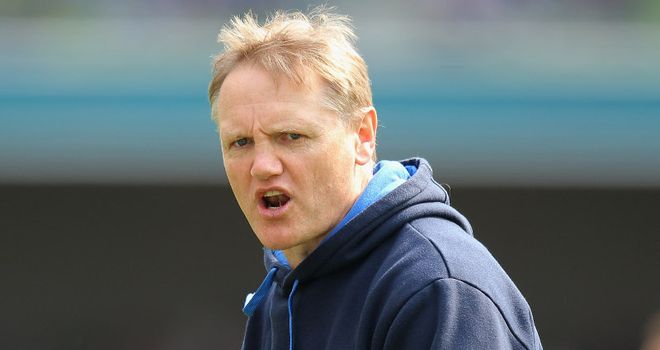 Joe Schmidt: Aiming to lead Leinster to their third Heineken Cup success in four seasons
Head coach Joe Schmidt believes Leinster produced their best 40 minutes of the season in a clinical first-half display against Glasgow Warriors.
Schmidt admitted he was relieved after seeing the defending Heineken Cup champions climb to the top of Pool 3 with a 38-13 home win.
A brace of tries from Eoin O'Malley, plus further touchdowns from Rob Kearney and Gordon D'Arcy, helped Leinster claim a bonus point by the break as they raced into a commanding 31-6 half-time lead.
They failed to add to their tally in the second-half until Isaac Boss sealed a dominant display with a late stoppage-time try.
Relief
"I thought we built the momentum really well and stayed really focused on the job in hand."
Joe Schmidt Quotes of the week
Schmidt said: "You don't tend to get anything easy with Glasgow, but it was certainly a relief to get through the way we did.
"We had to build some pretty combative phases to get over and we were just delighted to get the space on the scoreboard that took a bit of pressure off in the second half.
"The first 40 minutes was probably the best 40 we have put together. I thought we built the momentum really well and stayed really focused on the job in hand.
"Eoin profited twice from that and we managed to get two others to get that bonus point which can be so important in these pools that are so competitive."
Space
Glasgow's five-match winning streak came to a halt in Dublin, with head coach Sean Lineen offering no excuses.
"We got well and truly spanked, didn't we?" said Lineen.
"In the first half there was only one team in it. Leinster won the contact battle hands down, both in attack and in defence.
"We talked during the week about winning the space beyond the ball but they won that battle very easily.
"It was a walk in the park in that first half and the game was over."