Carvell hoping for final chance
Ellis could return for England in place of Warrington front rower
Last Updated: 15/11/11 3:57pm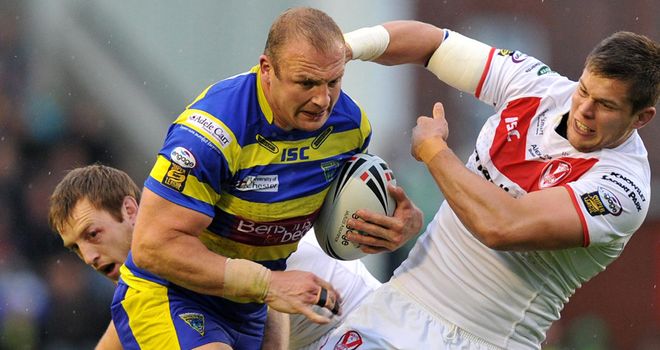 Garreth Carvell: England place under threat from Gareth Ellis for Four Nations final
Garreth Carvell is facing an anxious wait to discover if he will keep his England spot for Saturday's Gillette Four Nations final.
The Warrington front rower got his first taste of action in Saturday's 28-6 win over New Zealand after replacing the injured Gareth Ellis.
With Ellis expected to recover from the back injury he picked up in England's 36-20 defeat by Australia at Wembley, coach Steve McNamara will be tempted to revert to the team that began the tournament for the decider against the Kangaroos at Elland Road.
The 30-year-old Carvell only knew for sure that he would be playing against the Kiwis 24 hours before the game but, after being 18th man at Wembley, was primed to step in.
"I've been prepared to play every week," he said. "It's a bit difficult to do it but I more or less told myself on the Monday that I'd be playing and put my head on.
"I would have liked a bit more time but to be on pitch playing is what I wanted. I've achieved that and hopefully I'll be in again this week.
"Steve has kept the same 17 so he can get combinations going and I think it's worked.
"He probably had his doubters but the lads that aren't in the squad are working so hard as well behind the scenes, doing extra fitness sessions etc, so they are prepared to jump straight in, like me.
"I would have liked a bit more time but to be on pitch playing is what I wanted. I've achieved that and hopefully I'll be in again this week."
Garreth Carvell Quotes of the week
"I hadn't played for six or seven weeks but the training we've been doing with the conditioners has been outstanding and everyone is ready to play."
Cameo
Carvell's cameo display in a tremendous all-round effort by the England pack earned him the praise of his Warrington skipper Adrian Morley.
"It was a huge blow to lose a player of Gareth's skill but it gave Garreth Carvell a chance and I thought he was absolutely outstanding, particularly in the first half," Morley said.
Carvell, who enjoyed a fine season with Warrington, missed out on McNamara's initial selection after the coach decided to go with just three specialist props in the warm-up match against France.
The former Leeds and Hull forward was also on the fringes last year when he was flown out to New Zealand as a last-minute replacement for Morley and gained his only taste of the action in the "dead rubber" against Papua New Guinea.
Carvell is experienced enough to know the same thing might happen this week but, even if he has to wait for a fourth cap, he says he will still be aiming to contribute to what he hopes will be a victory over the Kangaroos.
"Gareth (Ellis) is an excellent player but the thing with this squad is that it's not just the 17 that's on the pitch, it's the full 24-man squad," Carvell said.
"There's a great spirit, it's almost like a club. We feel like a club, we've gelled as a team and not being in the 17 you can still have a massive contribution.
"Hopefully I'll be in there but, if not, I'm sure I can contribute in another way and help the team to victory against Australia.
"It would be massive. There is no bigger game. I've had a taste of a few Challenge Cup finals and a Grand Final and it would be great to get a victory on Saturday. It's been a long time."