Youngs - Pressure on Scotland
England scrum-half confident of sending Scotland home early
Last Updated: 27/09/11 9:58pm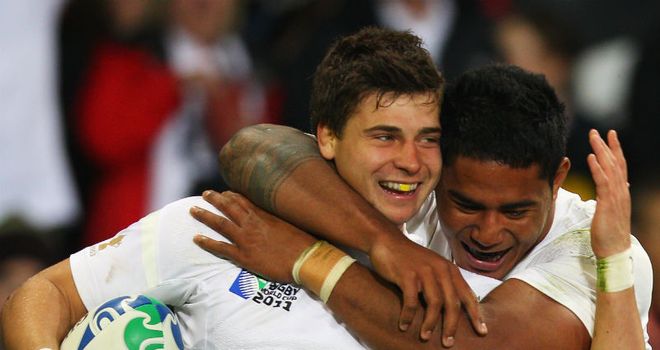 Youngs: Confident of making it four wins from four in Auckland
England scrum-half Ben Youngs has stoked the fire ahead of Saturday's decisive World Cup showdown with Scotland, declaring: ''We're the ones in control''.
The Scots have to beat England by their biggest margin in 25 years to stand any chance of qualifying for the quarter-finals, following Sunday's 13-12 defeat to Argentina.
England head into the Eden Park clash unbeaten on top of Pool B and Youngs insists the pressure is all on Scotland.
''We're three from three and no other team's done that (in our group),'' said Youngs.
''We're the ones in control and the ones who should be confident, and rightly so.
Respect
''It's not arrogance, it's the fact we are playing well and we had a good result on the weekend (against Romania).
''Scotland are the ones who've got to come out and play. We fully respect Scotland, they do have dangerous players.
''We've been playing good attacking rugby. As long as we get that right it should be enough.''
Immediately after England's 67-3 victory over Romania, England manager Martin Johnson labelled the Scotland encounter as bigger than anything they would face in the Six Nations.
"We've been playing good attacking rugby. As long as we get that right it should be enough."
Ben Youngs Quotes of the week
Buy Youngs expects Scotland to be just as fired up for the do-or-die clash.
''It's England v Scotland. They'll be just as up for it as we will. They're going to throw everything at us and we'll do likewise to them,'' said Youngs.
''We need to be more hungry than they'll be, we need to be more passionate than they'll be, we have to match them physically and better them.
''If we do that, we'll be in a good place.''
England have scored 17 tries in their three World Cup matches and conceded just one - but their penalty count has been a major concern for Johnson.
Had Argentina and Georgia boasted a kicker with the reliability of Scotland's Chris Paterson then England could have found themselves in trouble.
Scotland outplayed England at the breakdown during the Six Nations and Youngs stressed the need for discipline on Saturday, for England to trust the defence that has held up so well.
Trouble
''It's a World Cup and we've come on a huge amount as a team since we last played Scotland,'' said Youngs.
''They pushed us really close at Twickenham. Max Evans scored at the end and we were lucky we got away with it at the end to eventually win the game.
''We learned a huge amount and I think we're in a great place as a squad.
''Discipline has been an area we have really targeted. We've been having a bit of trouble there. 'We have to be whiter than white and trust our defence.
''They have some very dangerous players but our defence has been very good.
''We have conceded one try in the last three games so there's no reason we can't let them have the ball and keep making our tackles.''