Bairstow wins writers' award
Yorkshire batsman named best young English player by the press
Last Updated: 19/09/11 3:07pm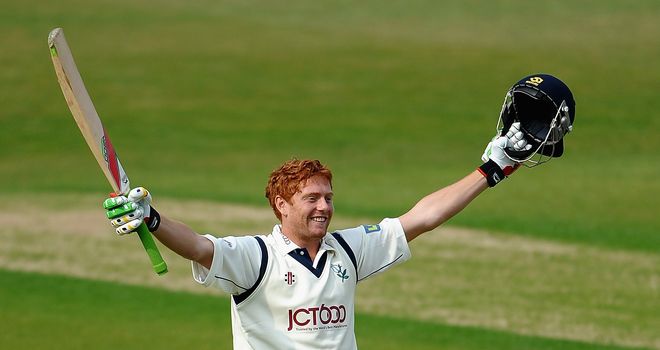 Bairstow: Scored three centuries for Yorkshire
Yorkshire batsman Jonny Bairstow has been named as the Cricket Writers' Club Young Cricketer of the Year for 2011.
The 21-year-old was given the prestigious award at the club's 65th anniversary lunch at Lord's, the scene of his spectacular debut for England on Friday.
The international call-up came after a domestic season in which he scored 1,213 first-class runs at 48.52 for Yorkshire and the England Lions.
He converted his maiden century, against Nottinghamshire in May, into a double-hundred before going on to reach three figures twice more during the summer.
Bairstow also took 46 catches during the campaign, mostly as Yorkshire wicketkeeper.
In winning the award, which is judged by the cricket press, Bairstow received nearly double the votes of Warwickshire all-rounder Chris Woakes, who finished as the runner-up.
A total of 13 candidates were in the running, with Hampshire spinner Danny Briggs and Leicestershire batsman and 2009 winner James Taylor also receiving significant support.
Bairstow is the ninth Yorkshireman to win the award, with the likes of Fred Trueman and Geoff Boycott also being given the honour.
The award is restricted to England-qualified players under the age of 23 on May 1.