Cook looks to end on a high
England skipper confident there is plenty more to come
Last Updated: 15/09/11 3:07pm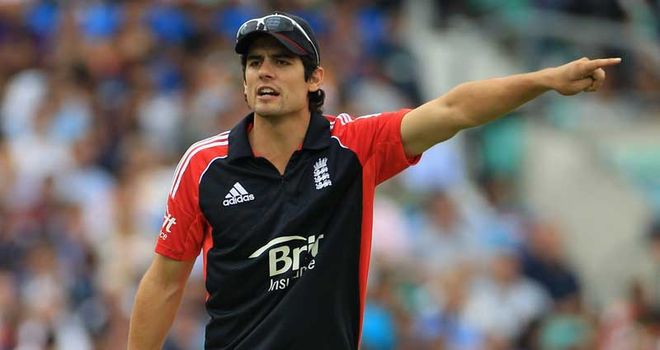 Cook: Wants positive finish
Alastair Cook is aiming to end his first season as England ODI skipper on a winning note with victory over India on Friday in Cardiff.
A second successive series is already in the bag, after a 3-2 success over Sri Lanka earlier in the summer.
India have yet to win a match against England in any format this summer, but have begun to push their hosts closer - never more so than in Sunday's tie at Lord's.
"It's been a good start, and I'm very happy with the way the lads have taken to me as captain and bought into the ideas," he said.
"I'm very happy with winning both series. We know how tough it's going to be in the next two months or so [in a return series in India], but this side has always responded well to challenges."
Improvement
Cook is confident there is plenty more improvement to come from his ODI squad.
"We are a very young side trying to make progress.
"The exciting thing is I don't think we've played as well as we can.
"We have been put under pressure in this series, but have still won the games. That is very encouraging.
"The last two games have been very close, and have shown what a talented side India are.
"We're going to have to play at the top of our game to try to win, and finish the summer on a high as a one-day team."
"We have been put under pressure in this series, but have still won the games. That is very encouraging."
Alastair Cook Quotes of the week
Cook has admitted his disappointment, meanwhile, at being pipped by Graeme Swann to the Twenty20 captaincy made vacant by Stuart Broad and Eoin Morgan's injuries.
"Of course. It's human nature when selection doesn't go your way. But I'm man enough to take it on the chin," he said, having discovered he would not be recalled to next week's squad to take on West Indies in the shortest format.
As for Swann, who has vowed to rein in his jokey reputation while he is leading the side, Cook has yet to notice a dramatic personality change.
He wishes the off-spinner well in his new role.
"Apparently he's stopped tweeting, which is slightly strange," he said.
Honour
"I'm obviously very happy for him. He's a great friend of mine, and it gives him an opportunity to lead the country - that's a huge honour."
While a door has opened for Swann's international career, a significant one is set to close on Friday when veteran India batsman Rahul Dravid plays his 344th and final ODI - and perhaps his last match of any description in this country.
Cook said of the 38-year-old: "He's scored 10,000 runs in both forms of the game. He's managed to adapt his game to every surface.
"He is an all-time great."