England hand trio contracts
Collingwood no longer eligible after retiring from Test cricket
Last Updated: 13/09/11 2:04pm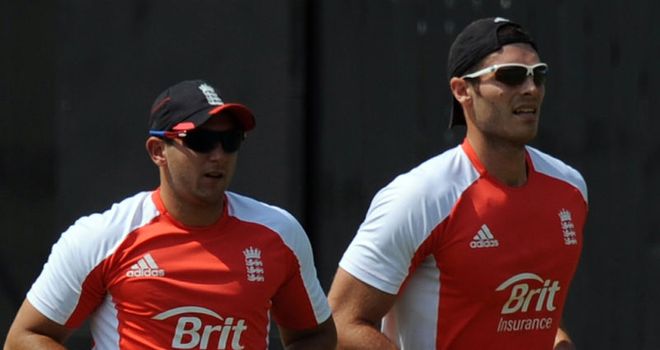 Bresnan and Tremlett: Rewarded for their efforts with a 12-month central contract
The England and Wales Cricket Board have announced the new list of players to be given central contracts, with Tim Bresnan, Chris Tremlett and Eoin Morgan all included for the first time.
The trio are in a 13-man group that have been awarded 12-month deals for the period from October 1, 2011 to September 30, 2012.
Seamers Bresnan and Tremlett both played crucial roles in helping England retain the Ashes on Australian soil last winter, with the former taking the series-clinching wicket in the final Test at the SCG.
Morgan, meanwhile, has become a fixture in the Test team in place of Paul Collingwood, who retired from the longest form of the game after the series win Down Under, meaning he is no longer eligible for a full contract.
Bresnan's Yorkshire team-mate Ajmal Shahzad, who also toured Australia for the Test series, is not included.
"I am delighted that Tim Bresnan, Eoin Morgan and Chris Tremlett have all been awarded 12-month central contracts for the first time," national selector Geoff Miller said.
"Central contracts are designed to reward players who perform well consistently for England and all three have made significant contributions to the team's recent success in retaining the Ashes in Australia and beating Sri Lanka and India at home.
"Following his retirement from Test cricket, Paul Collingwood is no longer eligible for a 12-month central contract."
The ECB will finalise incremental contracts for the forthcoming 12-month period "in due course".
England central contract list: JM Anderson (Lancashire), IR Bell (Warwickshire), TT Bresnan (Yorkshire), SCJ Broad (Nottinghamshire), AN Cook (Essex), EJG Morgan (Middlesex), ST Finn (Middlesex), KP Pietersen (Surrey), MJ Prior (Sussex), AJ Strauss (Middlesex), GP Swann (Nottinghamshire), CT Tremlett (Surrey), IJL Trott (Warwickshire)