Stokes: I'm not Freddie
England newcomer playing down all-rounder comparisons
Last Updated: 29/08/11 5:14pm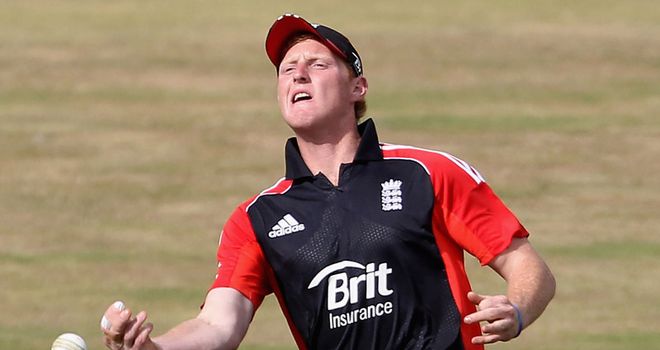 Stokes: England chance
England new boy Ben Stokes is already playing down comparisons with fellow all-rounder Andrew Flintoff.
The Durham youngster is the latest player to be compared to the most successful England all-rounder of recent times after breaking into the international side last week.
The 20-year-old made a low-key one-day international debut against Ireland in in Dublin and is now looking for further opportunities against India in Wednesday's Twenty20 international and further ODIs in the coming weeks.
"I am my own person," Stokes insisted on Monday. "I don't want to base myself on someone else.
"I guess we are the same - we bat and we bowl - but I don't want to base myself on anyone else."
The comparisons are as a result of Stokes being a hard-hitting batsman - albeit left-handed - and a medium pacer with potential to get quicker.
A product of Durham's impressive academy, Stokes shone in his first full season of county cricket last year and has continued to make an impression in 2011.
Injury
A finger injury, however, has hindered his progress of late and he can play against India as a specialist batsman only.
He said: "I had a bad break in my finger and a dislocation.
"I had two operations on it and was out for eight or nine weeks.
"It was pretty frustrating, especially given how well I thought I was playing before I did it.
"I am not 100 per cent fit to bowl yet but I will keep on getting treatment. Hopefully as time goes by it will get easier.
"It is absolutely brilliant to be selected.
"It has been said but this season has been quite frustrating with injury. I didn't let it come into my mind.
"I was totally focused on getting back to full fitness, back on the field for Durham. Getting picked in this has been overwhelming for myself."
Stokes is not the only new face in the England camp with Somerset's Jos Butler and Alex Hales of Nottinghamshire hoping for the opportunity to face India in Wednesday's match at Old Trafford.