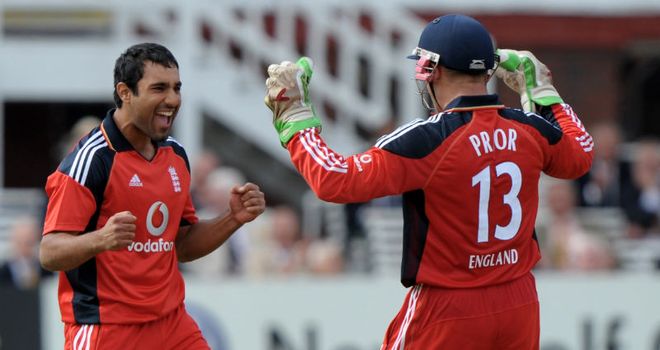 Bopara and Prior will join forces at Edgbaston
England wicketkeeper Matt Prior has backed Ravi Bopara to cement his place in the Test side in the coming years.
Prior and Bopara will link-up at Edgbaston on Wednesday for the first time in Test cricket since the fourth Ashes Test of the 2009 series after the Essex batsman was called up as a replacement for the injured Jonathan Trott.
Bopara was axed from the Test squad two years ago after a run of seven successive Tests, but returns with an opportunity to shine in Birmingham.
And, even if the right-hander's run back in the Test side is short-lived, Prior believes Bopara is destined for a successful career, labelling him 'one of the most talented cricketers I've ever played with'.
Ridiculous
Prior told Sky Sports News HD: "It's never over, you've always got an opportunity to impress.
"Ravi is 25 or something (Bopara is 26), he's a young lad. It's ridiculous to say at 25-years-old it's your last chance. Absolutely not.
"We know how good a player he is, he's one of the most talented cricketers I've ever played with, he's phenomenal and he just needs a few things to go his way and I'm sure he'll start it off this week.
"We have confidence in every single player that lifts on the England shirt and Ravi's no different.
"I'm sure he's thoroughly looking forward to it and ready to stamp his mark on international cricket."