Ramprakash punished by Surrey
Batsman's reaction to unusual dismissal earns one-game suspension
Last Updated: 03/08/11 5:35pm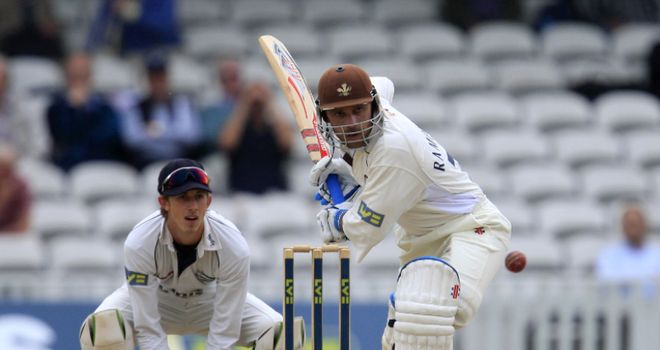 Ramprakash: obstructed the field
Former England batsman Mark Ramprakash has been handed a one-match ban by his county Surrey for an incident of "serious dissent".
Ramprakash, 41, was given out for obstructing the field during the final day of Surrey's LV County Championship victory over Gloucestershire at Cheltenham.
He started to make his way from the field before returning to discuss the decision with the umpires, Nigel Llong and George Sharp.
Llong and Sharp judged Ramprakash had impeded Gloucestershire's Ian Saxelby as he attempted to gather a throw at the bowler's end while Ramprakash's partner Jason Roy was going for a risky second run.
Ramprakash's exit for 35 reduced Surrey to 137-5 in pursuit of a target of 184 and they went on to claim a two-wicket win.
Withdrawn
"Surrey CCC have confirmed that Mark Ramprakash has been withdrawn from today's (July 3) CB40 clash vs. Northants as a result of an internal disciplinary process," read a statement on the county's website.
"The player has received a one-match ban as well as an automatic three-point penalty for a Level Two offence.
"Mark Ramprakash showed serious dissent after his dismissal against Gloucestershire on the final day of the LV= County Championship match which ultimately ended with a Surrey CCC victory."
Surrey chief executive Richard Gould confirmed Ramprakash will not face any further punishment from the England and Wales Cricket Board.
"Mark regrets his action in returning to discuss the matter with the umpires, and accepts the imposition of a one match ban, in addition to the automatic three point penalty as part of the ECB disciplinary process. The ECB has confirmed that the case is now closed," said Gould.
Disappointed
But Ramprakash later took to his Twitter account to defend himself.
"VERY disappointed to be banned for one game, given the circumstances," he wrote.
"I don't agree with the umpires' interpretation of what happened or (the)
rule."