Mac hails 'special' Sinfield
Reds coach rues 'butchered' chances
Last Updated: 29/07/11 11:00pm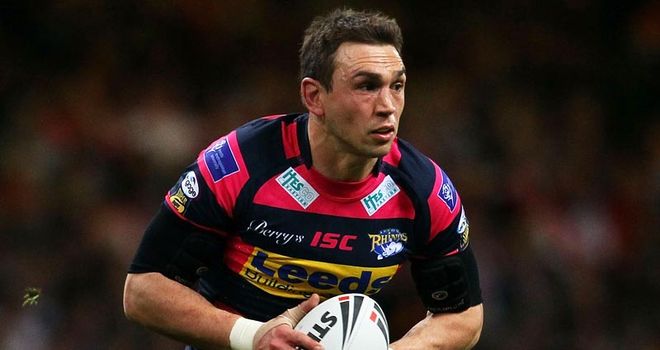 Sinfield: record-breaking night
Leeds coach Brian McDermott paid tribute to captain Kevin Sinfield after the Rhinos' goalkicker became Super League's record point-scorer in the 30-22 win at Salford.
A week after Sinfield became his club's all-time leading goalscorer, he kicked another five goals to overhaul Paul Deacon's Super League points tally.
McDermott said: "If you can break records at Leeds - given the players they have had over the decades, sensational, world-class players - you are doing some special stuff.
"The scary thing is he has got another four years at least left in his career. I think it is a special moment."
Leeds were made to work hard for their victory in Matt Parish's first home match in charge of the Reds, but their superior finishing ability always gave them the upper hand.
McDermott added: "I thought Salford gave it a crack. I didn't think they were great with the ball and probably dropped too many balls but they certainly did not ease off the gas.
"I thought we defended strongly. Salford laid down a marker early and said we were not going to roll over them.
Brilliance
"They attacked our try line quite a bit and it came down to some individual brilliance.
"In the second half maybe we dropped off a couple of percent - nothing I am going to get too angry about - and Salford wouldn't go away."
Salford enjoyed plenty of possession but did not create enough opportunities to regularly worry Leeds, although at 22-16 down, they almost got back into the game.
"I didn't think our options in attack were great, particularly in the first half," said Parish. "I thought we butchered a number of opportunities and got caught three or four times.
"I thought we matched them most of the match but they took most of their chances.
"We didn't take the opportunities we should have and were probably a bit disjointed."