Dhoni won't risk Zaheer
India skipper says seamer will have to be fully fit to play
Last Updated: 26/07/11 1:33pm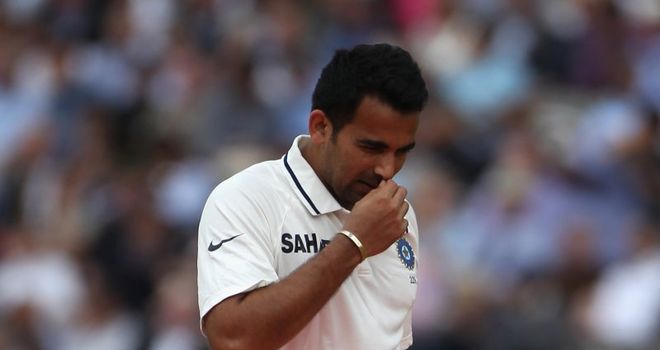 Zaheer: Injury doubt for Trent Bridge
India captain Mahendra Singh Dhoni says he will not play Zaheer Khan in the second Test at Trent Bridge if he is even slightly below full fitness.
Zaheer managed just 13.3 overs in the first Test at Lord's before pulling up with a hamstring injury which forced him out of bowling action for the rest of the match.
The tourists were therefore forced to play much of the contest without their star paceman and struggled to make inroads with just three specialist bowlers.
England claimed a 196-run victory in his absence and although Dhoni says it was difficult to cope without the left-armer, he insists Zaheer will have to be fully fit if he is to be selected on Friday.
"It was very difficult to bowl with three bowlers. We just needed that one extra bowler and things could've been different," Dhoni said.
"We have three days but I'm not 100 per cent sure if we will play him or not (at Trent Bridge). It is a long series and we don't want to risk any individual if he is only 90 per cent fit."
Hard work
He added: "Without Zaheer, the other bowlers had to work really hard.
"PK (Praveen Kumar) bowled around 60 overs, Ishant Sharma would also have been very tired and that just leads us into the second Test where they'll be even more tired if something else happens."
India also had to reshuffle their batting order after usual opener Gautam Gambhir suffered an elbow injury and Sachin Tendulkar spent much of the fourth day off the field with a virus.
"Most of our batsmen were batting in different slots from their original number," Dhoni said.
"Rahul (Dravid) opened, Sachin batted at a different number, Gautam batted at a different number. That also added pressure."
Dhoni added: "Most of the things that could have gone in the game really went wrong. It was tough for both our bowlers and batsmen."