Smashing time for Kieswetter
Opener looking to score big international runs
Last Updated: 08/07/11 9:00am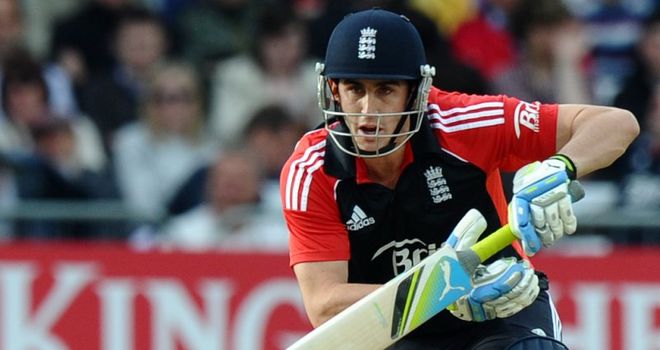 Kieswetter: Looking to be adaptable
Craig Kieswetter admits he is going to have to be adaptable if he is to nail down a regular place in the England team.
The Somerset wicketkeeper and England captain Alastair Cook blasted an unbroken opening stand of 171 at Trent Bridge to level the NatWest Series against Sri Lanka on Wednesday, and set up a decider at Old Trafford on Saturday.
He is renowned in county cricket for Somerset as a six-hitting opener, but acknowledges he cannot always be the one smashing the ball to all parts.
Cook dominated for much of their partnership, and Kieswetter said: "I think I have developed my game. I have learned to be more adaptable.
Slog
"I proved to myself I can do it and don't have to go out there and slog it as far as I can.
"My natural game is aggressive, and I ended up scoring at strike rate of 115 (at Trent Bridge).
"But I was more than happy to play the adaptable role and give Cooky a strike.
"By doing that, I am proving to myself I have adapted my game. I have worked hard."
There have been technical as well as mental adjustments, with the help of England batting consultant and former Test player Graham Thorpe.
"I was standing leg-side of the ball, which was a habit that crept in from T20 World Cup," said Kieswetter.
Habit
"It is not bad habit, because it works in the sub-Continent and West Indies.
"But in England batsmen need to be tighter, and by standing leg-side off the ball I was cancelling hitting ball through mid-on and square-leg and restricting areas I could score.
"Naturally, I can score all around the ground. But I was restricting myself, which put pressure on me."
One of his other new resolutions is to bat for longer.
"At Leeds, I scored a really pretty 25," he said. "But that is pretty pointless, compared to an ugly 80 or 100.
"So I am trying to stay around and not necessarily worry how the runs are scored, but how many."