Dernbach targets regular spot
Promising start for seamer in international ranks
Last Updated: 01/07/11 8:31am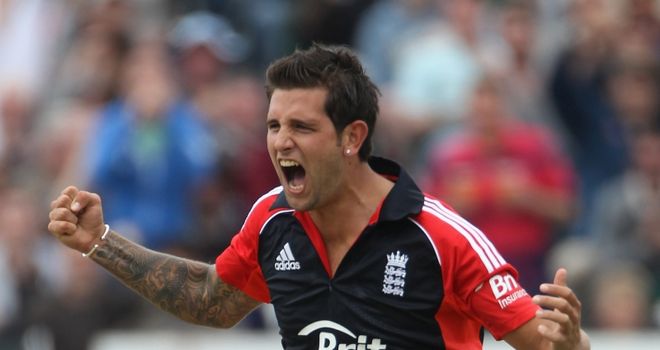 Jade Dernbach: Wants a regular spot in England's one-day side
Surrey paceman Jade Dernbach has targeted a regular spot in England's one-day side after a positive start against Sri Lanka.
He was the only England bowler to strike in a nine-wicket T20 defeat in Bristol on Saturday before picking up two for 25 as Alastair Cook's ODI reign began with a commanding 110-run win at The Oval.
Now Dernbach is looking forward to game two of the five-match series at Headingley on Friday, and back to that dream day at The Oval.
Over the moon
"It was amazing. To get the call up in the first place I was over the moon but then to make my debut at my home ground was the cherry on top," he said.
"It was everything I could have wished for. I had my mum and dad there and a few friends who came so it was brilliant to have everyone there for that first night. It was important for us to get that win and to get off to a winning start as well. It was everything that I could have dreamed of."
Dernbach knows competition for places in the ODI ranks is already tough, but is just concentrating on his own game, and helping England to more victories.
He said: "At the moment I'm just taking it game by game. I am new to the squad and the most important thing to me is winning the series. If you are involved in a successful side you are more likely to play so the more games we can win as an England side the more opportunity I will have to keep playing.
"I want to play every game that England play but we have a big squad of fast bowlers - all of whom can do a great job. You have the likes of Finny and Woakesy sat on the sidelines on Tuesday night and they are both fantastic bowlers. I know I have to stay on top of my game to keep those two out."