Gayle dispute rumbles on
Opener and WICB remain at odds
Last Updated: 17/06/11 10:07pm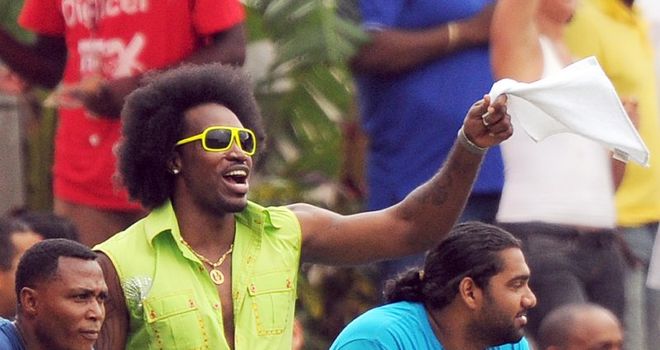 Gayle: set to miss West Indies' Test series against India
The international future of Chris Gayle remains in jeopardy after details of his June 14 meeting with the West Indies Cricket Board were released.
Former skipper Gayle has been overlooked by the West Indies selectors since the World Cup following his public feud with administrators in the Caribbean.
It had been hoped that the disagreement would be resolved at this week's meeting ahead of the Test series against India, which begins in Jamaica on June 20.
The veteran of 91 Tests looks unlikely to play in his home match, or any of the three-Test series, however, after several issues between Gayle and his board remained unresolved.
At the heart of the division are media comments made by Gayle to criticise the WICB as well as his decision to play in the Indian Premier League after he had been left out of the original squad for the series against Pakistan in April.
In minutes from the June 14 meeting released by the West Indies Players' Association, who appeared alongside Gayle, the WICB also apparently voiced concerns on "how to handle players who, for reasons other than fitness or personal distress, make themselves unavailable for selection but expect to be selected whenever they deem it necessary to make themselves available".
The governing body also added: "The comments made by him [Gayle] in the KLAS interview had created much ill-will with team management and unless there was a settling of differences, it would be difficult to see how the parties could harmoniously function."
That does not bode well for the Gayle's West Indies future, despite his importance to the team at the top of the order.
The 31-year-old, who was the top scorer at the IPL, admitted as much in this week's meeting with the released minutes revealing he has "emphasised his concern that the timeframe for his reinstatement to the West Indies team seemed to be indefinite".