Afridi cleared to join Hants
All-rounder settles differences with PCB
Last Updated: 16/06/11 7:13pm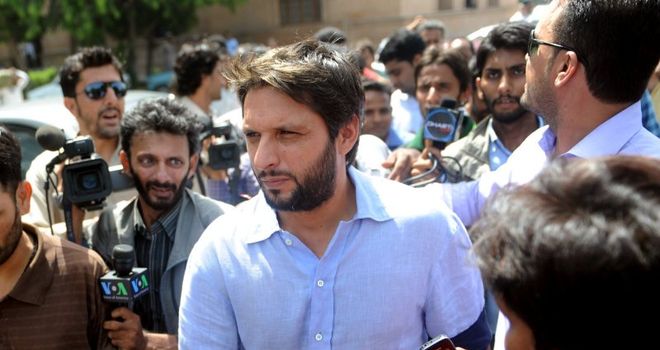 Afridi: free to take up Twenty20 contract in England
Shahid Afridi has been given the green light to join Hampshire after healing his rift with the Pakistan Cricket Board.
The PCB revoked Afridi's permission to play abroad after he announced his retirement from international cricket and criticised the team's management.
But the all-rounder, 31, has now been cleared to play for Hampshire in the Friends Life t20 tournament after he dropped legal proceedings and issued an apology during a disciplinary hearing.
"Afridi regretted the matter and said he will not contest the charges," said PCB legal advisor Taffazul Rizvi. "The committee unanimously decided to fine him 4.5 million rupees for various breaches of the code of conduct.
"The committee also recommended his NOCs (No-Objection Certificates) to play abroad be restored, which the Pakistan Cricket Board has endorsed."
Afridi said: "I am thankful to the committee for listening and understanding my point of view and I look forward to playing in England, for which I was here."
Welcome
Hampshire, however, said on Thursday they have yet to receive confirmation of Afridi's availability.
"We maintain, as we have throughout, that we would be very happy to welcome Shahid should this be received but, having yet to gain official confirmation, we feel it would be inappropriate to comment any further," said a spokesman for the county.
Afridi was originally scheduled to join the Royals for the start of their defence of the Twenty20 title against Somerset on June 1, but the ongoing lack of an NOC leaves his participation in Friday's match against Glamorgan looking extremely unlikely.
The clash with Essex on June 23 would be the next opportunity for him to make his debut.