Waqar hits out at Afridi
Afridi under fire ahead of PCB proceedings on Wednesday
Last Updated: 07/06/11 12:15pm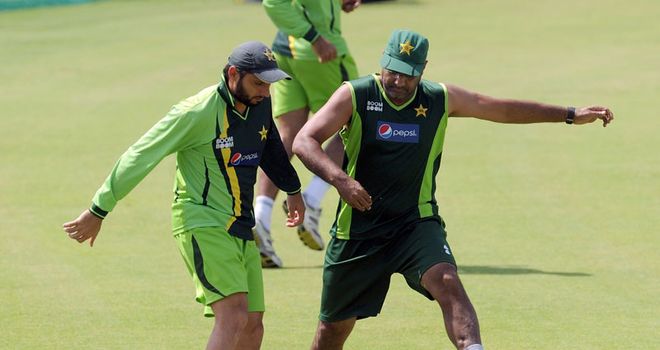 Afridi & Waqar: Strained relationship as captain and coach
Pakistan coach Waqar Younis has let rip on former captain Shahid Afridi for being a bad influence on the team during their ODI defeats in the West Indies.
Afridi retired from international cricket in protest of the current Pakistan Cricket Board (PCB) who removed him as captain for the ODI series in Ireland.
The move came after Pakistan lost in the Caribbean, and coach Waqar says in his report of the tour that Afridi was a disruptive influence in and around the team dressing room.
The PCB will hold disciplinary proceedings against Afridi for his comments about their involvement in team selection in the West Indies, where he and Waqar found themselves at odds.
"As a (former) captain I feel he is still very immature, has poor discipline, lacks a game plan and is unwilling to listen to others' opinions or advice," Waqar said in his report seen by Reuters.
Immature
"Besides myself, the rest of the coaching staff has worked very hard with him to improve his abilities as a long-term and successful captain but sometimes his volatile and immature nature have proved detrimental and led to unfortunate outcomes including game losses."
Waqar says Afridi refused to take on board any suggestions for team selection before the closing one-dayers.
"During the 4th and 5th ODIs, he came into the team meetings meeting with a decisive mindset and was refusing to discuss playing XI options," Waqar said in the report.
"I tried to discuss different options for the team but he behaved very inappropriately and walked out of the meeting.
"I have to say, this is a very unprofessional attitude of a team's captain and does not help the team flourish."
Afridi will appear before the PCB on Wednesday, with team manager Intikhab Alam also criticising him for not being able to listen to other ideas in team discussions.