Quartet due in court
Three players and agent charged with two offences
Last Updated: 19/05/11 11:45pm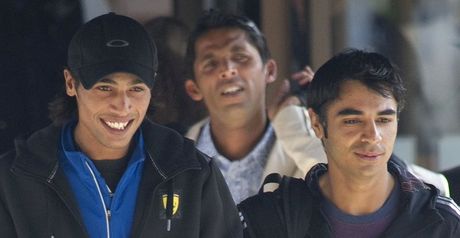 Pakistan trio are due in court
The three Pakistan cricketers and a sports agent at the centre of spot-fixing allegations are scheduled to appear in court on Friday.
Former Pakistan captain Salman Butt and pace bowlers Mohammad Asif and Mohammad Amir have been charged with cheating and conspiracy to obtain and accept corrupt payments.
Agent Mazhar Majeed of Croydon, south London, is accused of accepting £150,000 to arrange for the players to bowl "no balls" during three dates in Pakistan's fourth Test against England at Lord's last August.
The four men are set to appear before London's Southwark Crown Court. Earlier in 2011 they were granted bail after appearing before City of Westminster Magistrates' Court.
During that hearing, District Judge Howard Riddle heard the evidence came from an investigation by an undercover News of the World reporter.
The cricketers were previously funded by the Pakistan Cricket Board but their lawyer has confirmed that has ended.
Accepting corrupt payments carries a maximum sentence of seven years imprisonment and an unlimited fine, while cheating has a maximum sentence of two years imprisonment and an unlimited fine.