O'Driscoll fear for Leinster
Stars injured in 'demolition derby'
Last Updated: 16/05/11 8:35am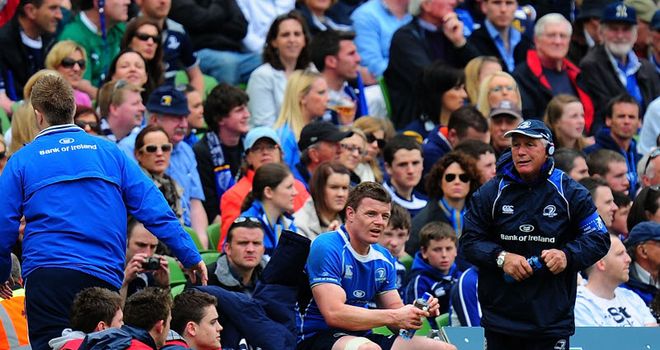 Brian O'Driscoll: Worry for Heineken Cup final after injury against Ulster
Heineken Cup finalists Leinster are facing an anxious wait for the prognosis on injured stars Brian O'Driscoll and Richardt Strauss.
O'Driscoll was one of four Leinster players who picked up injuries in Friday's 18-3 Magners League semi-final win over Ulster, which coach Joe Schmidt described as a "demolition derby."
"Brian came off with a knee problem that was uncomfortable rather than unplayable"
Joe Schmidt Quotes of the week
"There were bodies littered all over the field at times. It was a really good, competitive match and it was superb preparation for the Heineken Cup final clash with Northampton Saints," said Schmidt.
Uncomfortable
"Brian came off with a knee problem that was uncomfortable rather than unplayable. We'll have to see how it settles down over the weekend and then assess him, and the others, on Monday.
"It's not ideal because we want to have a good week of training ahead of the game against Saints."
According to reports in the Irish press, O'Driscoll has injured a muscle behind his knee and has been asked to rest it for a few days. It was also reported by former Leinster and Scotland coach Matt Williams on radio on Sunday that a brace-type device has been put on the leg of the Ireland captain to aid the recovery process.
Apart from O'Driscoll, the 2009 European champions saw Irish international prop Mike Ross leave with a stinger injury to his left shoulder, scrum-half Isaac Boss come off with a hamstring strain and hooker Richardt Strauss limp away with a bruised hip. Man of the Match Sean O'Brien also had to have four stitches in a cut above his left eye.
Strauss is the principle concern and, like O'Driscoll, with undergo further tests on Monday to determine the extent of his injury.