Southee heads for Chelmsford
New Zealand national embraces county cricket
By Jessica Basi. Last Updated: 07/05/11 5:32pm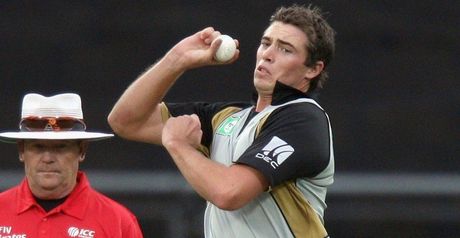 Southee: Signs deal with Essex
Essex have signed Tim Southee ahead of their Friends Life t20 campaign.
Southee currently plays for the Chennai Super Kings in the Indian Premier League.
The bowler impressed in New Zealand's match against Pakistan last season, where he became one of only three players to take a hat-trick in a Twenty20 international.
He also shone at the ICC World Cup, stamping his ground as third-highest wicket-taker in the competition.
Approval
Southee's move to Britain is still subject to approval from the New Zealand Cricket Board.
Coach Paul Grayson is eager to see the new recruit gel with his Essex squad.
He said: "His experience will be great for the team. He has had an excellent 18 months with New Zealand so it is going to be exciting to see him join up with the rest of the lads.
"He has shown on the biggest stage that he is great with the white ball, but is also able to give it a strike down the batting order."