Chabal sorry for comments
But suspended France star stops short of retracting accusation of bias
Last Updated: 27/04/11 4:34pm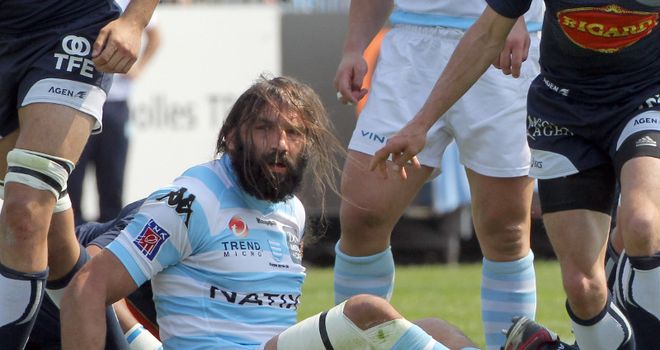 Chabal: said referees were biased towards Castres
Sebastien Chabal has apologised for comments he made accusing referees of bias which have resulted in his suspension by Racing Metro.
The 33-year-old France back row forward was handed the ban by his club on Tuesday. However, it was announced 24 hours later that he will also face a Ligue Nationale de Rugby hearing into his conduct one day after the suspension ends on May 11.
The comments, which appeared in a newspaper interview ahead of the release of Chabal's autobiography, questioned the ability of referees and also suggested they favour rivals Castres.
Even so, speaking to French television station RTL also on Wednesday, he stopped short of retracting them.
"I'm sorry that this caused controversy. I'm sorry if people were hurt. I apologise for it because I didn't want to attack anyone," Chabal said.
Context
"I'm sorry for what came out in an article in a certain newspaper this Sunday. In my book I talk about refereeing in a good-natured way. There's 10 pages or so and you can't just take words like that out of context."
Of the controversial suggestion of bias, Chabal said: "I didn't say it - I suggested it.
"Everyone has their opinion.
"I think there's nothing wrong with talking about refereeing, nothing wrong in saying that.
"I think referees suffer from their non-professionalism. They don't have all the tools, all the weapons to work well.
"I underline that it is a difficult job, that I wouldn't do for all the gold in the world."
Chabal, capped 62 times but dropped for France's final RBS Six Nations match against Wales after their stunning loss to Italy, had told Journal Du Dimanche that "Top 14 referees are hopeless".
France coach Marc Lievremont will also name his World Cup squad on May 11, although there is no guarantee that Chabal - who suffered from injuries and bouts of flu during the winter - will be heading to New Zealand.