Youngs - I was an idiot
After Ireland beating Youngs says he must man up
By Paul Higham Twitter: @SkySportsPaulH. Last Updated: 20/03/11 8:03am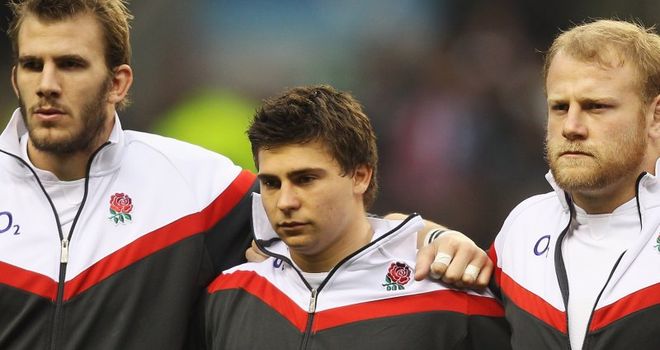 Youngs: Played like an idiot
England scrum-half Ben Youngs has admitted playing 'like an idiot' as his team lost their grand slam decider against Ireland in Dublin.
"I'm so disappointed. I've played like an idiot but I have to man up and take it on the chin. This is a good test of character."
Ben Youngs Quotes of the week
England did pick up the RBS Six Nations title, but they missed out on a first grand slam since 2003 after being soundly beaten by the Irish at the Aviva Stadium.
Leicester scrum-half Youngs never got into the game, and was sin-binned in the 36th minute for petulantly throwing the ball away to stop the Irish taking a quick lineout.
21-year-old Youngs admitted he failed to rise to the occasion of playing for a grand slam, in a day that could have hardly have been worse for Martin Johnsons' men.
Ireland's 24-8 victory took all the gloss of what was otherwise a promising campaign for England ahead of the World Cup, but Youngs vowed to learn from the experience.
Idiot
"I'm so disappointed," said Youngs. "I've played like an idiot but I have to man up and take it on the chin. This is a good test of character.
"Let's see what I am made of. Hopefully I'll bounce back. I have some good guys around me who will help pull me through.
"We are a very strong unit and we'll come back better from this, I'll guarantee that. I will work hard to make sure it never happens again.
"It has happened and it is not easy to swallow but guys will come back and we'll be better for it. You only have to see what's happening in the rest of the world to realise this is just a game."
Youngs admitted being surprised by referee Bryce Lawrence's yellow card, but did not blame the official for what ended his game - as Danny Care came on to replace him.
"What can I say? He's the boss [the referee] and if that's what he decides, that's what he decides," he added in the Mail on Sunday. "It came as a little bit of surprise to me, but what can I do?
"I've been done and I won't do it again. I have to face up to it. I should hopefully come back a stronger character.
"Obviously, I regret it - of course I do. If I knew what would happen I wouldn't have lobbed it in."