Unclear future for Palmer
England lock mulls tough choice when Stade contract expires
Last Updated: 01/02/11 2:31pm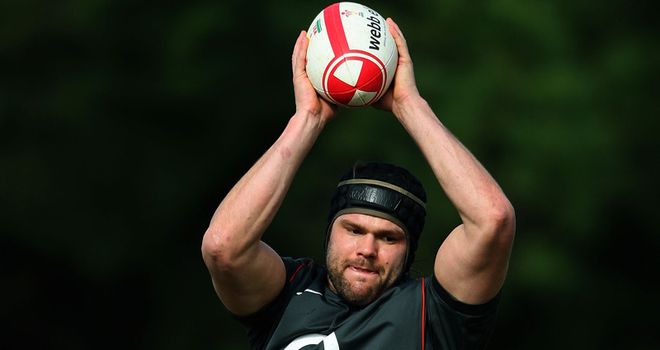 Palmer: Based in France
England and Stade Francais lock Tom Palmer admits he faces a tough decision when deciding where to commit his club future.
SKY BET ODDS:
To win Six Nations - England 15/8, France 5/2, Ireland 3/1, Wales 5/1, Scotland 14/1, Italy 250/1.
Bet now
Palmer has established himself as an England regular in the second row recently as he played all four matches during the November Tests and is expected to feature heavily in the RBS Six Nations.
But the Rugby Football Union's recent ruling that players based outside England will not be considered for selection after this year's World Cup would put his international career in jeopardy if he stays in France.
The 31-year-old, who has won 20 caps for England, says he understands why the RFU have taken the course of action they have.
"I can understand the RFU's point of view," Palmer said.
"I can understand they have a lot more control over the English-based players than they do have over guys based in France because of the EPS agreement and they pay the clubs for the privilege.
"I enjoy being in France at the moment and it is the right place for me at the moment."
Decision
Palmer's current contract at Stade Francais runs until July 2012 and he realises he will have a big decision to make when the deal expires.
"You won't see many players going (to France) this year because of the World Cup," the former Leeds and Wasps man added.
"The French league continues through the World Cup so there won't be a big market for players who are going to be playing in the tournament. After that we will have to see.
"I have got one more year left on my contract so I am in France until July 2012. This time next year I will have to make a decision and that will depend on the circumstances at the time and what offers I get from England and France.
"If I had to choose now it would be a difficult decision. Next year, the World Cup will have happened so that may make a difference on how I do things.
"I think I have improved as a player in the last few years, partly from being in France and partly from just maturing generally.
"(England team-mate James) Haskell has been playing some fantastic rugby recently for us at Stade Francais and he has definitely improved as a player by playing over there."