Sexton frustrated at talks
Discussions over new deal with the IRFU stall
Last Updated: 19/01/11 10:42am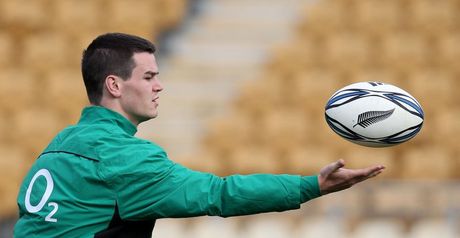 Sexton: Wants new deal sorted out
A number of clubs have been placed on red alert after Jonathan Sexton's contract talks stalled.
The Leinster fly-half has admitted he is becoming frustrated that discussions with the IRFU have so far failed to produce a new deal.
And although Sexton wants to remain to Leinster, he would be attract huge interest across Europe should he decide to leave.
"It's my future," Sexton told the Irish Independent.
"Ask any rugby player and they say it's something they don't enjoy doing.
Advice
"I'd like it to be sorted, but it's not and I've become used to dealing with it at this stage.
"What can I do? All I can do is leave it to guys I trust to do it for me. I trust them 100 per cent to do what's right. They give me good advice and my family give me good advice as well.
"I don't really want to go into detail about it too much. I just hope it gets sorted. The only frustrating thing I can talk about is that I play for Leinster and when selected I then play for Ireland.
"The majority of the time I play with Leinster. But I don't negotiate with them, it's got nothing to do with them. So, it's me and the IRFU who decide whether I play for Leinster. That's the frustrating thing."