Siddle to keep on sledging
Australia paceman unrepentant over bust-up with Prior
Last Updated: 22/12/10 9:09am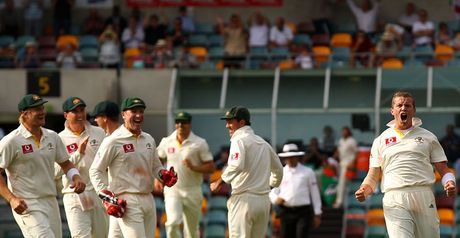 Siddle: Will keep on sledging
Australia paceman Peter Siddle has vowed to keep on sledging after claiming it helps him perform better.
LIVE ON SKY SPORTS Follow the Ashes live on Sky Sports HD, online and on mobile this winter. Sky Sports HD will show every ball of the Test and one-day series while skysports.com will provide up to the minute coverage including scores and text commentary, match reports, video interviews and highlights plus columns by Sky Sports commentators.
Siddle was involved in an angry exchange with England's Matt Prior during the 267-run victory in Perth, with the wicketkeeper taking offence to some of the comments made after he had been bowled for 12 in the first innings.
However Siddle remains unrepentant about the whole incident, insisting instead that the episode was "just part of the game".
"It's always going to be there, we fight hard in the field and the emotions come out," he said.
"It's always around and no doubt going to be around in the future as well.
"I think that's part of my game anyway. When I play my best that's what I'm doing anyway. Sometimes it comes off and sometimes it doesn't - in this case it has.
Fun
"It's just both teams going hard at it. It's good fun out there - they're at us, we're at them and it makes the game a bit more lively and no doubt the spectators like to see it.
"I enjoy having some fun with the batters and it's just the way I like to play my cricket, so if it helps the other boys get the job done, I'm happy to do it."
Meanwhile, Siddle is confident Australia captain Ricky Ponting will be fit for the Boxing Day Test in Melbourne.
Ponting fractured his little finger parrying an attempted catch to Brad Haddin to dismiss Jonathon Trott in the second innings at Perth.
However Siddle said: "It's looking good, he's come over here confident, and he said he's holding the bat fine and all that type of thing.
"It doesn't matter how sore you are or how injured you are I don't think you ever want to miss a Boxing Day Test, so I think everyone will definitely be 100 per cent fit for this one."