Clarke's Twitter apology
Aussie batsman apologises for not walking after dismissal
Last Updated: 07/12/10 12:45pm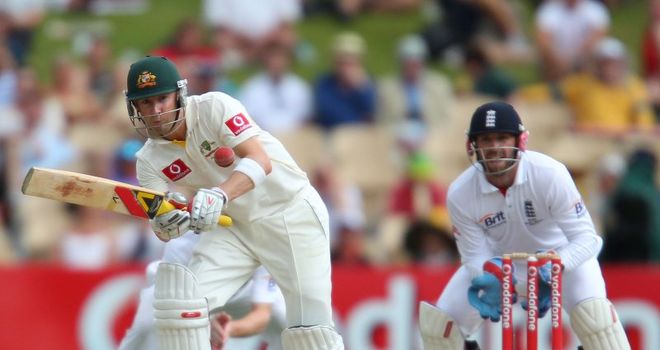 Clarke: Twitter apology
Michael Clarke has apologised via Twitter for refusing to walk after Kevin Pietersen claimed the wicket of the Australia vice-captain.
Pietersen, who smashed a career-best 227 early on day four to help England to a mammoth 620-5 declared, made sure the visitors will start the final day in command after dismissing Clarke for 80 with the final ball of the day.
Although Clarke stood his ground after getting an inside edge which looped to Alastair Cook at short leg, he was quickly on his way after England reviewed it.
And Clarke has been quick to say sorry for not walking after TV replays showed clearly he had hit the ball.
He used his Twitter account to say: "Just want to apologise for not walking off the ground tonight when I hit the ball. I was just so disappointed, my emotions got best of me."
An elated Pietersen couldn't stop talking about his bowling abilities after he picked up the crucial wicket of Clarke in Adelaide, according to Graeme Swann.
Spinner Swann said Pietersen made sure everyone was aware of his 'all-round' abilities at the close of play.
"We had to review it," Swann said on Sky Sports 1. "It wasn't given but we all knew he got an inside edge so we called for the review system and thankfully it went in our favour.
"We toiled hard in the last session and a half with very little luck.
"Sometimes you need a bit of inspiration and who else but KP to be up there telling you how to get Clarke out? He went straight in and said 'I'm an all-rounder, I'm an all-rounder' and he's still shouting it I think."
Swann did the early damage with the ball after he dismissed opener Simon Katich and skipper Ricky Ponting in the space of a few overs as Australia slumped to 98 for two.
"I was really happy with the way the ball came out," he said. "Obviously when you get a couple of early wickets you think 'this is going to be my day, I could get four or five today' but it wasn't to be.
"Their best two players of spin combated me really well. Clarke was very tricky to bowl at.
"We didn't have much going for us but it all went our way in the last over."
You can follow Michael Clarke on Twitter - @mclarke23. You can also follow Joe Drabble, skysports.com's man in Australia - @drabsdownunder as well as skysports.com editor Chris Harvey - @skysportsed.