Watson: We will fight on
Opener insists Australia won't give in at the Adelaide Oval
Last Updated: 06/12/10 9:22am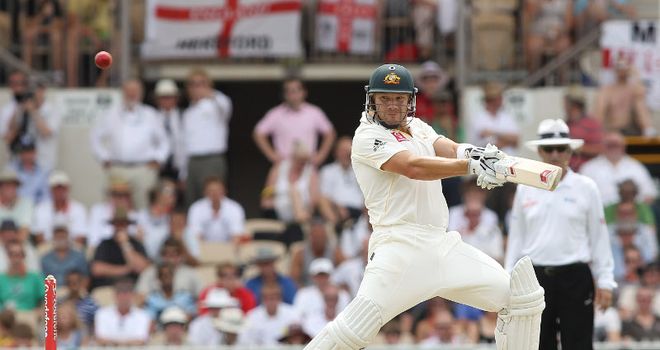 Watson: Defiant
Opener Shane Watson has insisted Australia will "fight to the death" in a bid to prevent England winning in Adelaide.
LIVE ON SKY SPORTS Follow the Ashes live on Sky Sports HD, online and on mobile this winter. Sky Sports HD will show every ball of the Test and one-day series while skysports.com will provide up to the minute coverage including scores and text commentary, match reports, video interviews and highlights plus columns by Sky Sports commentators.
"We're going to fight until the death."
Shane Watson Quotes of the week
Australia will go into the final day of the second Test well and truly on the ropes after Michael Clarke's late dismissal left them on 238-4.
And with another 137 runs needed to make England bat again, Watson knows Australia face an uphill battle but one the side are ready to take on.
He told Sky Sports: "We're going to fight until the death tomorrow. It's going to be a very tough day of Test cricket for both sides and we'll fight as long as we have to."
Australia had shown their fighting qualities as Clarke and Mike Hussey put on a century for the fourth wicket.
However England struck in the final over when Clarke (80) was caught by Alastair Cook off the bowling of Kevin Pietersen.
And Watson admitted the dismissal of the vice-captain had hit the Australian camp hard.
"It is very shattering," he said.
Shattering
"He had batted beautifully throughout the day's play and we were starting to get a bit of momentum going our way, so to lose Michael in that last over was pretty shattering."
Watson, himself, had batted well at the start of the innings to record his second half-century of the match - however he was once again unable to convert a good start into a big score.
But Watson, who was removed by Steven Finn for 57, claims he is feeling good out at the crease.
"It would be nice to really capitalise on how I'm feeling out there," he said.
"I've not been able to capitalise on my starts so far so hopefully I can turn that around.
"I feel like I'm in a really good place and my mind is clear but it's just not working at the moment. I feel like I'm batting really well and getting to a point and then not being able to go on with it."