Butt calls for final push
Pakistan upbeat ahead of Lord's showdown
Last Updated: 25/08/10 5:07pm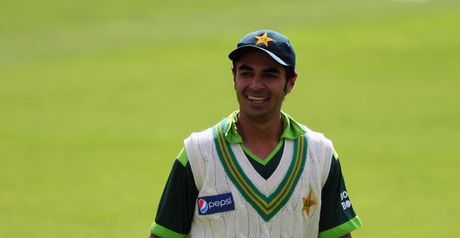 Butt: confident mood
Pakistan captain Salman Butt is backing his team to carry on proving people wrong in the deciding Test against England at Lord's, starting on Thursday.
LIVE ON SKY SPORTS
The fourth Test, from Thursday 10.30am, Sky Sports HD1
SKY SPORTS ON SKY
From football to fishing and everything in between, including cricket, rugby, golf and tennis - there's some amazing coverage coming up on the five Sky Sports channels. Plus, with the launch of
Sky Sports News HD
this summer, all five channels will soon be available in stunning high definition, only with Sky. Click
here
for more
"This summer has been hard for the batsmen. It is not always about getting big runs - it is about getting the runs that matter in the context of the game."
Salman Butt Quotes of the week
Butt's four matches in charge, since Shahid Afridi resigned his position and retired from Test cricket six weeks ago, have brought two defeats and two wins.
The first of those successes snatched a drawn series against Australia at Headingley - and after surprising England at the Oval last week to reduce their deficit in the series to 2-1, Butt's Pakistan have the opportunity to repeat the trick.
Butt made 63 and 92 in vain against Australia at Lord's in July but also contributed important runs to the victories in Leeds and south London.
Like his opposite number Andrew Strauss, and pretty much every other batsman this summer, Butt has lacked consistency.
Wonderful
Reflecting on his second-innings top score of 48 last week, he said: "I feel wonderful.
"The ball is hitting the middle. I scored the runs when they were most needed.
"Both times in the winning games, when it really mattered the most, I got runs.
"This summer has been hard for the batsmen. It is not always about getting big runs - it is about getting the runs that matter in the context of the game.
"If you are chasing 180-odd you don't score centuries to win the game. All you need is two people scoring a 50 or a 40 and you are home."
As for his own up-and-down experience of captaining a country whose cricket team have always tended to lurch to extremes, the 25-year-old acknowledges the jury is still out on his potential.
"It is too early to say that any big development has taken place for me," he added.
"To have two very good wins and two losses is a 50 percent record.
"Away from home against the world's best sides, that is very good - because nobody here or in the world expected us to win the games that we did.
"Among all of that, every time I have spoken I have said this team has the ability - and I am happy they are showing it time and again.
"I hope they will carry on.
Inexperience
"But at the moment this unit are only five matches old. They don't have much experience and they will have their good and bad times.
"They will make mistakes, but we have to stick together."
Should Pakistan claim a share of the series at Lord's it will be a proud achievement for all concerned.
"I think it would be the most wonderful thing," said their captain.
"To come from 2-0 down to level the series would boost confidence for the rest of our futures - and in difficult times, we will have something very good to remember."