Ponting - India not ideal
Batsman expects England to come out on top against Pakistan
Last Updated: 25/07/10 2:22pm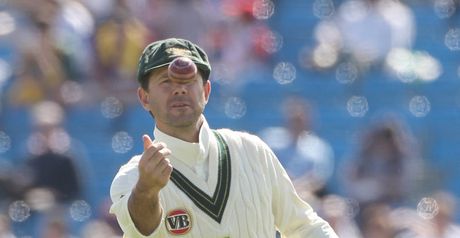 Ponting: Expects England to beat Pakistan on home soil
Australia captain Ricky Ponting admits a tour to India is not ideal preparation for his side ahead of an Ashes series this winter.
SKY SPORTS ON SKY
From football to fishing and everything in between, including cricket, rugby, golf and tennis - there's some amazing coverage coming up on the five Sky Sports channels. Plus, with the launch of
Sky Sports News HD
this summer, all five channels will soon be available in stunning high definition, only with Sky. Click
here
for more
"If you were trying to set down and map your perfect preparation for an Ashes series or a home series, it probably wouldn't be playing two Test matches in India"
Ricky Ponting Quotes of the week
Having drawn the two-match series against Pakistan on English soil, Australia now play just two more Tests before the Ashes opener on November 25.
Ponting admits Australia may have to "tinker" with their team in India due to the slow, dry pitches in the sub-continent that are in stark contrast to what they are used to back home.
"If you were trying to set down and map your perfect preparation for an Ashes series or a home series, it probably wouldn't be playing two Test matches in India," he said.
Ideal world
"But you don't live in an ideal world. That's the way international cricket is these days.
"We'll go over there and do whatever we can, play the best cricket we possibly can.
"What the conditions probably do throw up over there is the likelihood of maybe having to tinker with the setup in your team.
"We'll wait and see who we've got that's fit and ready to go for that tour and pick a squad of players we think can win a Test series over there, and then worry about the start of the Ashes after that."
Australia will be eager to regain the Ashes from England after losing their grip on the the miniature urn last summer.
Ponting, who became just the second batsman to pass 12,000 Test runs during the second Test defeat to Pakistan at Headingley, admits he is not yet sure if he will be part of another Ashes tour,
"I honestly don't know," he admitted.
"It's all going to be down to how well I play. I love playing for Australia. I cherish every moment that I have to captain the side and represent my country.
"If I get back here in a couple of years' time then so be it, but if I'm not good enough then there's nothing I can do about that."
Interesting series
Pakistan now go on to face England in a four-Test series, which begins at Trent Bridge on Thursday.
Ponting expects Andrew Strauss' side to come out on top in an "interesting series", despite the threat posed by Pakistan's impressive seam attack.
"I think it will be a decent series. If Pakistan bowl as well as they bowled in the two Tests against us, I'm sure they will trouble the English batsmen," he added.
"With Pakistan on the rise and England a good settled Test match side, I think you're going to see some entertaining games. I think England will win. If you look at their side, I think they're a more complete team than what Pakistan are.
"Pakistan are still an inexperienced side - even Leeds probably highlighted that, the fact that we were probably only a catch or a few runs away from pulling off a big win.
"It will be an interesting series to watch. I'll certainly be keeping an eye on what's happening."