Thompson hails Back factor
England international sees bright future at leeds Carnegie
Last Updated: 20/07/10 3:57pm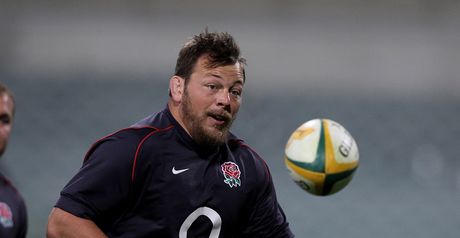 Thompson: Eager to team-up with Back
England hooker Steve Thompson has revealed that working with Neil Back was the deciding factor behind his move to Leeds Carnegie.
SKY SPORTS ON SKY
From football to fishing and everything in between, including cricket, rugby, golf and tennis - there's some amazing coverage coming up on the five Sky Sports channels. Plus, with the launch of
Sky Sports News HD
this summer, all five channels will soon be available in stunning high definition, only with Sky. Click
here
for more
"It's a new chapter and I have some big goals ahead of me this season both at club and international level."
Steve Thompson Quotes of the week
The 32-year-old, who featured alongside Back in the 2003 World Cup-winning England squad, opted to sign a two-year deal with Leeds after a spell in the French league with Brive.
Although he had many other offers, Thompson said that a meeting with head coach Back and director of rugby Andy Key persuaded him to make the switch to Headingley.
"When I spoke to Neil and Andy Key I was inspired by them," he said.
"When we played together for England, Backy was coaching me even then and was always one of the leaders.
Leader
"He took hold of us and he led from the front.
"He's changed slightly from his playing days but he's still got that ferocious drive and ambition. Just look at what he achieved last year with Leeds.
"A lot of people class success as winning silverware but the fact that Leeds stayed up was a tremendous feat.
"The way they were playing for each towards the end of the season, and digging in deep, was something special and I'm looking forward to being a part of that."
Thompson, who currently weighs in at 17 and a half stone, says he has returned to prime fitness after ballooning to 22st when out with injury in 2007.
Work
He added: "I've worked so hard to get myself fit and I'm enjoying keeping the weight off now. After getting to 22st, I swore I'd never get to that weight again.
"I'm actually more nervous about coming back to play in the Premiership than I was going to France because there is so much to play for.
"It's a new chapter and I have some big goals ahead of me this season both at club and international level.
"I could hide out when I was in France and it made life a little bit easier.
"But coming back to the Premiership, I know that I will be judged more closely and will have to play the best rugby I can every single week."