Ryan agrees Falcons deal
Irish prop to swap Toulon for Kingston Park
Last Updated: 14/06/10 10:18am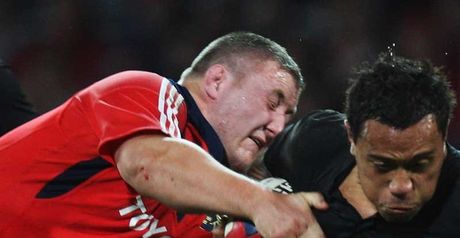 Ryan: Joining Newcastle
Newcastle coach Alan Tait has admitted he is delighted to have secured the signing of Irish prop Tim Ryan from Toulon.
The 26-year-old Ryan, who was capped at Under-19s level, is seen as the ideal replacement for Carl Hayman, with the All Blacks international heading in the opposite direction.
Falcons boss Tait had initially been keen on another Toulon prop, Tonga Lea'aetoa, however the form of Ryan meant it is the former Munster man who be playing at Kingston Park next season.
And Tait believes the Irishman, one of the stars of the Munster team that almost beat the All Blacks in 2008, can make a big impact next season.
He told The Journal: ""Tim is our definite number one tighthead. We are delighted Tim has chosen to take up that challenge.
"Tom May gave him a ringing endorsement, he could not speak highly enough of him as a man and a player.
"I know the fitness coach at Toulon as well, and he told me Tim is a really hard worker in the gym.
"I made the decision to drop the interest in Tonga after watching the Connacht game.
"I was unimpressed to be honest and made the call to look elsewhere then."