Barkley sad to miss out
Centre says he will not play against Australia
Last Updated: 07/06/10 5:14pm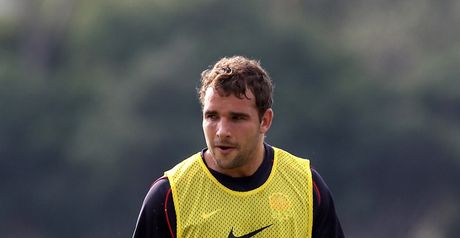 Barkley: Targeting second Test
Olly Barkley says he already knows that he has no chance of being included in the line-up for Saturday's first Test with Australia.
"The Test team is the one you all want to be in and I'm not going to lie, I'm disappointed not to be in the side."
Olly Barkley Quotes of the week
The Bath centre has been named in the XV to face the Australian Barbarians on Tuesday, compromising his chances of playing again just four days later.
But Barkley hopes that an impressive showing in the tour match will propel him into team manager Martin Johnson's plans for the second Test.
"The Test team is the one you all want to be in and I'm not going to lie, I'm disappointed not to be in the side," he said.
"The Test side is organised for Saturday and to play two games of Test match intensity from Tuesday to Saturday is not overly realistic at this stage of the season.
"The selection was made four or five days ago so I had a while to get my head around it.
"I'm not one to dwell on what's not going to be so I'll be doing everything tomorrow night to stake a claim for a place in the second Test.
"It's a long tour, a week's a long time in sport so we'll see what happens."
No grudge
Barkley's Bath team-mate Shontayne Hape is now likely to take the spot at inside centre for the clash with the Wallabies in Perth.
Barkley will not bear a grudge despite his return to form and fitness being responsible for the New Zealand-born player being squeezed out of the position in the Bath side.
"Shontayne has been involved in a few squads for the last six months now and he was due to play a large role for the Six Nations had he not got ill," he added.
"I had an inkling they would want to see what he is capable of at Test level and he deserves his shot. He's played very well at Bath when he has played.
"I'm still disappointed but he gets my full support. He's a great bloke and a very talented guy."
Recent England regular Delon Armitage is another set to miss out on the first Test after being named in a back three that also contains Ugo Monye.
Armitage said: "I want to have a go and do what I do best - counter-attack and take people on one-on-one. I want to do the best I can in this game and hopefully get in that Test team.
"In the Six Nations I probably touched the ball three times when we were running in the back line. Charlie and Olly are brilliant and they have great vision.
"We are going to have a go. Obviously we want to win but we want to have a go as well.
"We are not going to get into this Test team by kicking the ball away, watching Australia play and defending."