Tamim happy to hit out
Bangladesh opener throws caution to the wind in Test arena
Last Updated: 02/06/10 4:17pm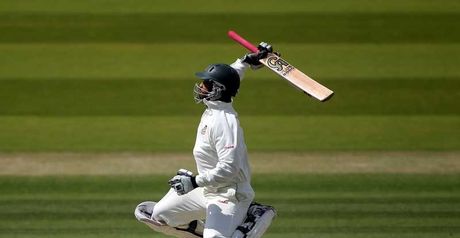 Going fast: Tamim Iqbal
Tamim Iqbal says his improvement as a batsman in Test cricket stems from a decision to throw caution to the wind and play with his natural attacking style.
The 21-year-old left-handed opener has reaped the benefit in recent times - unlike England, against whom Tamim has scored five half-centuries in six Test innings.
His improvement culminated in a second-innings hundred at Lord's last weekend, which put Bangladesh in with a fleeting chance of an unexpected draw.
They faltered on the final day to go 1-0 down with one match to play in the npower series - starting at Old Trafford on Friday.
"When I started playing Test cricket I was in two minds whether to go slow or go fast - and originally I decided to go slow," Tamim said of his career in the five-day game, which has now stretched to 18 caps.
"It was not working for me. The first 10 Tests were not good - I think I only got two fifties. "The coaches said to play like I do in the ODIs and enjoy my batting - 'We will not say anything to you'.
Chat
"I know the way I bat sometimes looks fantastic, sometimes looks ugly - especially if I try to smash the first ball and get caught in the slips - but I am happy with the way I play my natural game.
"If I don't score, that's fine with me - because I want to play like this."
Tamim also said that he is not bothered by sledging - something he revealed he was on the receiving end of at Lord's.
"There was some chat," he confirmed.
"But that was just part of the game - and anyway I like to talk when I am batting. It happens in every match, and I was loving it."
Tamim is hoping his ongoing exploits may help him attract a future county contract but for now wants Bangladesh - who have won just three times in 67 Tests - to build on their most recent showing.
"Our main strength in bowling is spin, and there was nothing in the wicket at Lord's," he said.
"So we hope Old Trafford will be better for us. We have (captain) Shakib (Al Hasan) - who is one of the best in the world - and if he bowls well we can do better."