Shakib: I reported approach
Bangladesh captain suspicious after sponsor offer
Last Updated: 26/05/10 3:05pm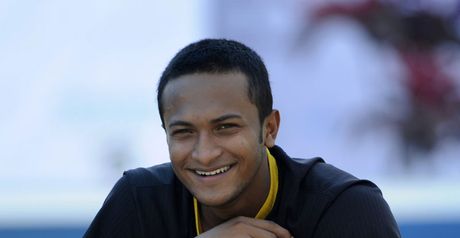 Shakib: Reported suspicious approach
Bangladesh captain Shakib Al Hasan has admitted that he has previously reported a suspicious approach to the International Cricket Council's Anti-Corruption Unit.
Shakib claims he was approached by someone who wanted to be his 'sponsor' ahead of the 2008 one-day series against Ireland.
However the all-rounder immediately reported the incident to the ICC to investigate.
Shakib said: "It was a long time ago, two-and-a-half years ago, only once. He called me and I told the guys. That was it.
"I didn't talk to him much because we had a team meeting to go to, so I told him 'I'll talk to you later' and immediately told a member of the board and the ICC guy.
"They took action and after that he never called me again.
"We didn't have time to discuss all the things and what I should do.
Pride
"I took the phone, and the way he spoke, he never exactly told me he wanted me to fix a match, he just told me he wanted to be my sponsor or something like that. The way he was talking, I thought he might do something, so I told someone."
The news comes on the day when it was revealed a county player was approached by an Indian businessman and asked to help fix televised games.
The unnamed professional also reported the incident - and Shakib admitted that he would never entertain the thought of underperforming for money.
"I can't speak for anyone else, but as far as I'm concerned my head wasn't turned at that time," he said.
"What I feel is I am not caring about money. I want to play for my country, that is a great pride for me and I want to continue to do well for my country.
"As far as my family is concerned we are settled enough to lead our lives, so I am not concerned about those monies. If I play well for the next 10 years, the money will come and I won't have to worry about it."