Hall thrilled by Rhinos form
Try-scoring hero backs Leeds for triumphant comeback
By Rachel Griffiths. Last Updated: 18/04/10 1:43pm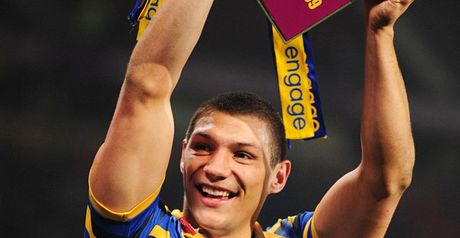 Hall: Impressed with Leeds
England winger Ryan Hall insists Leeds are "back on track" following their 48-24 Carnegie Challenge Cup victory over Hull on Saturday.
"I think it shows we're back on track really. We started a bit dodgy but we're getting back to our old selves."
Ryan Hall Quotes of the week
The Super League champions are still outside the top eight in the standings after enduring a poor start to their latest title defence, but showed signs of bouncing back over Easter when they landed five points from a possible six.
And after Saturday's eight-try thrashing of Hull, in which Hall touched down four times, the winger is adamant the champions are returning to the top of their game.
Satisfying
"It was very satisfying, especially compared to last year when we fell at the first hurdle by losing to St Helens," said Hall.
"It was a tough tie at Hull but I take my hat off to the boys, they were outstanding.
"I think it shows we're back on track really. We started a bit dodgy but we're getting back to our old selves.
"We're throwing some new stuff in there which you have to do really to progress. We've been trying to integrate it for a while but finally it's clicking and we're on the right track again."
England captain Jamie's Peacock's surprise return from injury on Saturday provided a crucial boost for the Rhinos as they played on the lush pitch at the KC stadium - a sharp contrast to the mud-caked surface at Headingley.
"It was a great day for rugby with the sun shining and the surface was brilliant," said Hall.
"It's much better than we get at Headingley at the moment, although hopefully it will start getting good now there's some sun on it.
"But Leeds like to play on that sort of pitch because we can get to show all our skills."
Hall, last year's leading try-scorer in the Super League, had posted just six tries in 11 games before Saturday, but returned to outstanding form with a display that earned him the man-of-the-match award, a nod he was quick to play down.
"It was made easy by the all the work the boys do in the middle," he added. "They just keep putting me away, it's my job to finish and I get all the plaudits."
Plan
After disposing of one of their main rivals, Rhinos appear on course to land the game's famous knockout trophy which has eluded them for 11 years, but Hall insists the players are not getting carried away by Saturday's result.
"We've set out a plan with Bluey (coach Brian McClennan) that is in our minds," he added.
"But we're taking it one step at a time. You can't afford to get too far ahead of yourselves as we did last year because you pay the consequences otherwise."